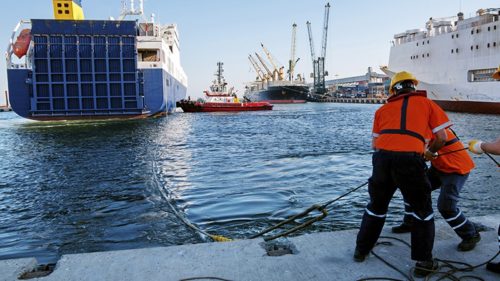 107 shipowners, with a strong Greek representation, have publicly backed mandatory speed limits for shipping to reduce greenhouse gas emissions in an open letter to member states of IMO.
The letter called on parties to support the move for mandatory speed limits at the IMO's upcoming MEPC74 meeting as way of meeting GHG reduction targets of at least 40% by 2030 and for total emissions to be cut by at least 50% by 2050 compared to 2008 agreed last April.
A total of 107 Signatories included leading Greek owners including Tsakos Shipping and Trading, Navios Maritime Holdings, and Dynagas, and other major European owners such as Euronav and Louis Dreyfus. The signatories are not binding, but do show initial support for the concept.
"As the initial step we express our strong support for the IMO implementing mandatory regulation of global ship speeds differentiated across ship type and size categories. Our preference would be to set maximum annual average speeds for container ships, and maximum absolute speeds for the remaining ship types, which take account of minimum speed requirements," the letter said.
"Such a regulation should be implemented as soon as possible and the obligation for compliance should be placed both on shipowners and operators, including charterers."
Of course as well as reducing GHG emissions speed limits would act to significantly reduce overcapacity in shipping, something which has dogged the industry since the global financial crisis in 2008. Indeed the letter noted that slow steaming, which was practised in the wake of the global economic crisis by shipowners in an effort to manage overcapacity, had signficantly reduced GHG emissions.