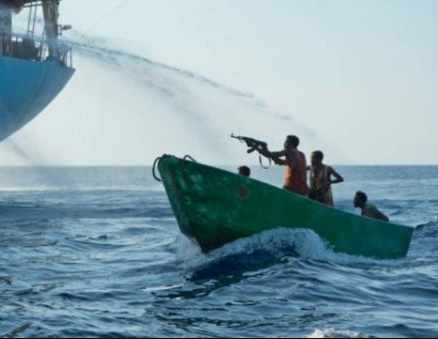 Indigenous shipowners have expressed concern over recent warnings of increase in attacks in the Gulf of Guinea especially as the dry season sets in, calling on the Nigerian Navy and other Navies in the region to step up their efforts and intensify patrols to strengthen maritime security and protect shipping.
Major shipping groups including the International Chamber of Shipping (ICS), the Baltic and International Maritime Council (BIMCO), INTERCARGO and INTERTANKO and the Oil Companies International Marine Forum (OCIMF) had recently warned that as the dry season approaches and sea conditions abate, there is going to be an increase in attacks in the Gulf of Guinea, hence maritime security risks to vessels operating in the GoG require renewed attention.
Speaking in a chat with SHIPS & PORTS, former President, Nigerian Shipowners Association (NISA), Aminu Umar, noted that shipowners are not unaware of increase in attacks during the dry season period but expressed worry over the delay in the take off of the Nigerian Maritime Administration and Safety Agency (NIMASA) deep blue project, which aims to tackle insecurity on the nation's territorial waters.
"It is a very troubling situation for us as a result of this warning. This is a trend the shipping groups have been monitoring for years now. As ship-owners, we have also raised this type of concern to the agencies concerned that usually, we noticed a drop in attacks during the raining season because the sea tide is very high. But during the dry season commencing from November to March, we always witness a lot of increase in attacks on vessels because the sea most of the time is calm and it easy for these pirates to move on a small boat and attack vessels. So we are really appealing particularly to the Navies of Nigerian and other countries in the Gulf of Guinea to intensify patrol and surveillance so address this menace so that the pirates will not have the chance to come in.
"We are also worried about this development because we understand that the deployment of the deep blue assets is supposed to happen in October but October has gone and we have not heard anything about it. We hope that NIMASA will meet the deadline by November so that they can see how they will deploy the assets because it is in the interest of all for us to have a strong presence in the water to curb what is likely to happen which BIMCO has already brought up," he said.
When contacted, Chief of Training and Operations, Naval headquarters, Rear Admiral Ibikunle Olaiya, assured that the Navy would step up its patrol and surveillance to ensure vessels are safe not just during the dry season but beyond.
"We are aware that as we approach the yuletide period, which is also the dry season, cases of attacks are always on the increase. Outside our waters, the pirates go far out there to attack ships in Ghana, Cotonue, Euatorial Guinea, Cameroun and then most times, they still bring these boys back to the creeks to negotiate for ransom thereby embarrassing us.
"On our own part, we are also strategizing and making effort to up our game so that we deny these guys freedom of action.
"Increase in patrol and the maritime domain awareness facility are also been put on maximum alert to watch out for these guys and we have also sensitized our unit to look out for any boats with outboard engine of 150 horsepower and above. Those are measures we are just putting in to ensure that we curb this menace.
"We are not just folding our arms even after the yuletide, we will also sustain these efforts. We have ongoing operations that we are doing and the commands are also sensitized to conduct their own independent operations," he told SHIPS & PORTS.