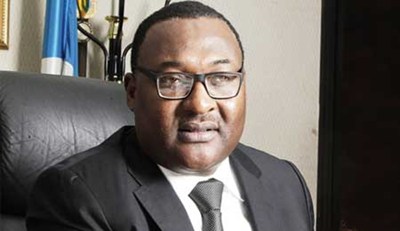 Executive Secretary, Nigerian Shippers' Council (NSC), Mr. Hassan Bello has decried the campaign of calumny by some freight forwarders against the NSC over its recently introduced registration policy.
Speaking in Lagos on Monday when he received members of the Chartered Institute of Logistics and Transport (CILT) Nigeria led by their President, Ibrahim Jubril; Bello said those who are kicking against the policy are only being ignorant of the benefit the registration seeks to achieve.
He explained that the registration fee is an administrative cost, which many stakeholders are already keying into.
"We have embarked on registration of stakeholders within the port as our laws have said. This registration is on knowing your customer basis and because of the benefits, which accrue from registration, we have been engaging with stakeholders.
"There were initially the issues of fees, which we have reduced to the barest minimum so that it will just be administrative cost and many people have registered. Unfortunately, we have noticed a lone ranger who is going about with campaign of calumny trying to say they are not going to register.
"I think that is blatant ignorance. People must register so that they will enjoy the services that are being offered. We will rally round to see that there is minimum presence of human beings at the ports so that our ports are efficient and transparent and automated. I am using this opportunity to call on all stakeholders to come and register with the council," Mr. Bello said.
The NSC boss, who was formerly inducted as a Charted Fellow of the institute, informed his guests that apart from the registration of stakeholders, the council is also engaging shipping companies for a downward review of some of its charges. These, according to him, are part of initiatives being championed by the council to ensure that Nigerian ports remain competitive and efficient to attract more cargo.
He also said the deficit in the country's logistics services remains a major challenge hindering the diversification policy of the government especially in the area of export.
According to him, "Apart from the issues of access to finance and market, I think getting our logistics right is one of the things we should concentrate on. If we get our logistics right, I think it will be pertinent to know that we are already on the part of development. Our economy will be galvanised, our economy will be diversified and we will have clusters of industries and employment of our people."
While expressing appreciation to CILT for honouring him with its Fellowship, Bello pledged that the council would collaborate with the institute on its Truck Transit Park and Inland Dry Port projects, adding that the council will also support and encourage its staff to participate in the capacity building programmes of CILT.
Earlier in his welcome address, the President of CILT Nigeria, Ibrahim Jubril, noted the giant strides recorded by the Nigerian Shippers' Council in protecting the interest of shippers and its resolve to reduce the cost of shipping as well as the promotion of the Truck Transit Park (TTP). 
He said the establishment and use of TTP cannot be more important than now.
Jubril expressed optimism that the NSC and indeed all sectors of the logistics and transport industry would experience new trade dimension when the Africa Continental Free Trade Area (AfCFTA) comes into effect in Nigeria.
He said, "We have outlined an implant programme on how concerned agencies can fully be abreast of the functionality of the AfCFTA and how greater advantages can be taken in boosting domestic trade volumes through greater involvement of shippers in formal trade as opposed to informal trades that are often not captured in our GDP calculations.
"It is in this area that the institute would request for an approval in principle for the institute to execute training schemes for NSC's staff, including its operational staff at their respective ICDS and trade zones."   
Copyright 2018 Ships & Ports Ltd. Permission to use quotations from this article is granted subject to appropriate credit given to www.shipsandports.com.ng as the source.