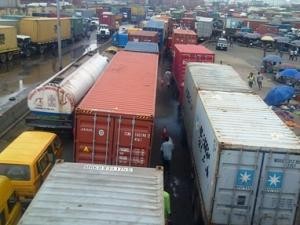 In other to address the poor state of the trucks across the country, the Federal Road Safety Corps (FRSC) and Nigeria Shippers Council (NSC) in Abuja on Thursday signed a MoU; 'Road Transport Safety Standardisation Scheme.
The MoU which is projected to set standard for the operation of fleet across the country would also assist in data collection of truck drivers and owners.
According to the FRSC, some of the trucks that travel on the highways are over 30 years.
Speaking on the importance of the scheme, the FRSC Corp Marshal, Boboye Oyeyemi said: "We would partner with them to ensure that the parks they want to construct are appropriately located.
"The Scheme provides for all the truck owners to register with the corps and it will make us have a joint database and with that, we should be able to tell the country how many trucks we have for planning and economic purposes."
On the poor state of the trucks, Oyeyemi said: "We should also be able to tell the state of these vehicles in order to encourage government to work on re-fleeting because most of these trucks on the highways are over 30 years and that is why we experience frequent breakdowns, especially in areas where the roads are bad.
"We need to tell government the actual number of trucks available and their lifespan in order for government to assist in the re-fleeting, maybe through the Bank of Industry ( BOI ) or through any other means.
"The truck owners are really in dare need of a life-saving intervention in terms of re-fleeting. We are battling with old trucks and there is an urgent need to really address this".
The Corp Marshal also noted that the implementation of the scheme which is immediate would carry stakeholders in the transport sector along.
The Executive Secretary of NSC, Hassan Bello said the scheme when implemented would boost the economy of the country and help in the decongestion of roads.
He also said the initiative would ensure quick delivery and distribution of goods adding that the first set of parks would be located in Enugu and Kogi States.
He said: "We are concerned just like the FRSC about free movement of goods, the delivery of goods, good transport infrastructure.
"As you know, 90 percent of the goods that come into Nigeria are distributed by road, so it is important we have not only the good road as an infrastructure but we should have supporting facilities like the Truck Transit Parks to ensure smooth delivery.
On the importance of the MoU signed, Bello said: "it would help to standardize the vehicles because if you look at the fleet, they are rickety and old and we need to start refleeting of these trucks.
"Refleeting would help us look at the economic indices. We have been working with Automobile Council to see how it could be done and the truckers themselves".