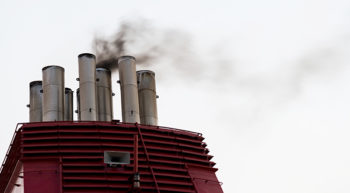 The shipping industry faces the threat of paying a levy to the European Union on its greenhouse gas emissions as lawmakers from the bloc grow increasingly impatient with the slow progress being made by the global effort to tackle the issue.
The industry, which accounts for around 90 percent of goods transported globally, has rejected unilateral moves by the EU, arguing it would distort world trade and instead wants the issue handled through the International Maritime Organization (IMO), the United Nation's shipping agency.
Last week EU lawmakers voted in favour of including shipping in draft reforms of the bloc's carbon emissions trading system (ETS), which could see the establishment of a fund set up to compensate for the industry's carbon footprint.
The proposals will go to a plenary vote in February and the EU's three law-making bodies – member states, the Commission and Parliament – will start talks next year to thrash out a reform deal.
Simon Bennett, of the International Chamber of Shipping (ICS) industry association, said the EU's ETS market which was developed especially for the power, steel and cement sectors, had been "an abject failure" and was not suitable for shipping.
"Its unilateral application to global shipping would create market distortion while generating trade disputes with China and other Asian nations," Bennett said.
"We hope that EU governments and the European Commission will see sense."
A spokeswoman for the European Commission said it was closely following the discussions in both the European Parliament and the Council of member governments, but had no specific comment at the moment.
Shipping now accounts for around 2.2 percent of world emissions of carbon dioxide (CO2) and that share is forecast to rise dramatically if nothing is done to slow it.
The ICS's Bennett said shipping fully accepted its responsibility for CO2 cuts via the IMO, which last month laid out a "road map" towards the adoption of final CO2 reduction commitments in 2023.
However, Allard Castelein, chief executive of the major European port of Rotterdam, said the IMO plans were "not challenging enough" and "far too late", urging the EU to "keep up the pressure" on the agency.
In response IMO Secretary-General Kitack Lim said tackling the issue was a matter of "urgency" and it would continue its work to find a global solution for controlling greenhouse gas emissions "by working together and not leaving anyone behind".  
Copyright Ships & Ports Ltd. Permission to use quotations from this article is granted subject to appropriate credit given to www.shipsandports.com.ng as the source.