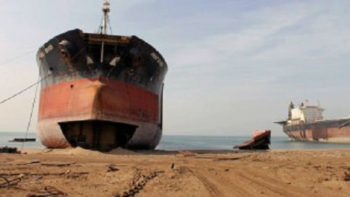 The shipping industry has long been criticized by campaigners for allowing vessels to be broken up on beaches, endangering workers and polluting the sea and sand.
Now, it is being called to account from a quarter that may have a bit more clout – its financial backers.
Norway's $1 trillion Oil Fund, a leader in ethical investing, in February sold its stake in four firms because they scrap on the beach.
Three of the firms excluded by Norway's fund – Taiwan's Evergreen Marine, Precious Shipping and Thoresen Thai Agencies (TTA) of Thailand – say they have been unfairly singled out. The fourth, Korea Line, declined to comment.
Norwegian life insurer KLP soon followed, selling shares in the one of the four it owned and blacklisting the other three.
Further exclusions are likely, said KLP, the fund and its advisory Council on Ethics. The Council's Chief Adviser, Aslak Skancke, said the divestments had already effected wider change, including encouraging companies to seek cleaner scrapping.
The fund contacted several firms in its portfolio during its investigation, Skancke said, "and when we made them aware of the possibility of exclusion from the fund, they … decided to change their policy." He declined to name the companies.
Three leading pensions funds – Caisse de Depot, CCP and OMERS – are reviewing their investments in shipping over ethical and green considerations, a finance source familiar with the matter said. OMERS declined to comment. Caisse de Depot and CCP also did not respond to requests for comment.
The steps add to momentum on the issue from European Union regulators and courts, in particular, pressure to measure up to standards for inclusion on the EU's list of approved ship-breaking yards, which is due to be updated later this year.
It's a revolution that has been a long time coming, environmental, labor and human rights activists say. But a transition won't be easy, for owners or breakers.
More than 80 percent of ageing commercial ships are broken up on the beaches of Bangladesh, Pakistan and India. Industry leaders in South Asia say they cannot afford to upgrade their sites and remain competitive.
And not all beaching is the same. In its most criticized forms, workers cut up ships with little more than their hands and blowtorches, with parts and pollutants dropping directly onto the sand. Other sites have cranes, impermeable surfaces and safety standards for workers and equipment.
"No one has ever really been able to come up with a reasonable definition" of beaching, said John Stawpert, Manager for Environment and Trade at the International Chamber of Shipping, which represents most of the world's merchant fleet.
"If there was to be a blanket ban on 'beaching' there would be a very, very serious capacity problem because there is nowhere else big enough to deal with it at the moment," he said.
Beaching in South Asia also pays more, an important consideration as the shipping industry emerges from a decade in the doldrums due to over-ordering of ships and slowing global trade, 90 percent of which is transported by sea.
Financial sources estimate shipping companies face a $30 billion funding gap in 2018, because even though the business is recovering, they are still not getting enough money from banks who are constrained by stricter capital requirements.
Commerzbank has said it will exit shipping financing and invest its capital elsewhere; others, such as Deutsche Bank, say they aim to cut their exposure to the sector.
Agency Report