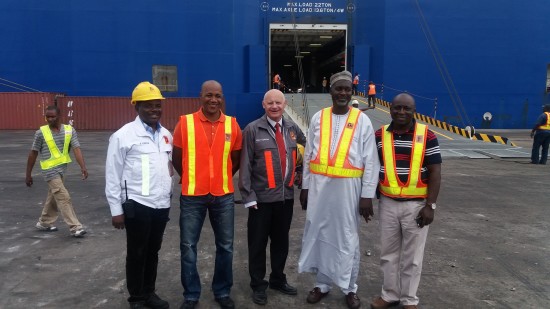 The Managing Director of Sifax Group, John Jenkins has said that roll-on-roll-off (roro) operation is part of the business expansion strategy of the company.
Jenkins said this at a reception for the first roro vessel to berth at Port and Cargo terminal operated by Sifax at the Tin Can Island Port Complex, Lagos on Friday.
He said the vehicle importation service is a joint venture partnership involving Sifax Group, Auto Export Shipping (AES) and Hyundai Glovis, the logistics arm of Hyundai KIA Automotive Group.
He said, "Sifax Group has a policy of exploring various opportunities to deepen our impact in the country's economy. This partnership is designed to bring innovation, excellent service and unparalleled customer satisfaction to the roro business in the country.
"Expansion of our service base is one of the key elements of Sifax Group business strategy for 2016. The service will be a one-stop shop one which will include port terminal services, stevedoring, ship agency and offdock services. I am happy to say that our partners, agents and consignees are in for a swell time due to the volume of preparations that has gone into this new business."
Also speaking, the Acting Managing Director, Ports & Cargo Handling Services, Mohammed Bulangu, said, "Over the years, we have come to do more of containerized cargo, even though this is a multi-purpose terminal.
"However, the reality of the current economic situation, the need to increase revenue base and business volume, employ more staff and deliver array of top-notch services, among others, have compelled us to resume our roro services. The terminal has all the required facilities, equipment and manpower to meet and satisfy all expectations."
The new roro service will connect five ports in the USA to Nigeria with a direct link of approximately 19 days transit time.
The route will connect Galveston, Jacksonville, Baltimore, Newmar and Boston, all in the United States of America to Lagos (Tin Can Island Port).
Each vessel that will berth at Ports and Cargo Terminal will import over 1,000 second hand cars and trucks. The roro vessel MV Glovis Supreme, came with 1,448 cars/vans and 88 trucks, making a total of 1,536 vehicles on her maiden voyage to the terminal.
On his part, the General Manager, Shipping of Sifax Group, Henry Ajoh, said all the roro cargo will be transferred after discharge at the port to the group's offdock terminal at Okota, Lagos.
Copyright Ships & Ports Ltd. Permission to use quotations from this article is granted subject to appropriate credit given to www.shipsandports.com.ng as the source.