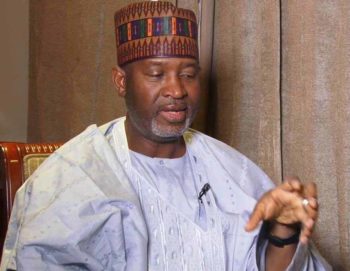 The Minister of State for Aviation, Hadi Sirika, on Thursday said Nigeria was close to establishing a new national carrier that would be private-sector driven.
Newsmen report that Sirika told newsmen in Lagos that the national carrier would be delivered within the first term of President Muhammadu Buhari.
He said the Federal Government had removed German-based Lufthansa Consortium from being one of the Transaction Advisers for the birthing of the new national carrier.
Sirika said, "I think in the next couple of months, one month to two months maximum, by March we should be able to have our outline business base for this transaction.
"I will say that we are very close to having the national carrier established. Certainly it would be within the first term of this administration.''
He also defended the Single African Air Transport Market (SAATM), which Nigeria recently signed, stressing that the country would be the greatest beneficiary.
The minister faulted the criticism of the move by airline operators in Nigeria, noting that most of them had refused to grow and were indebted to the aviation agencies.
According to him, the need to take full advantage of the SAATM informed the decision of the government to establish the national carrier.
He said, "At the time Nigeria was pushing for this SAATM, you and I know we had Nigeria Airways and we thought we would take advantage of it.
"Now, we don't, and our airlines for one reason or another have not grown to that capacity.
"This is why the government felt that we should set in motion to create a robust carrier that would take advantage of this SAATM for the benefit of the Nigerian people.
"Nigeria is among the first 11 countries that went to Yamousoukro and took a decision to liberalise the sector and open the sky for Africa, and this means growth.
"This means development. This means more jobs. This means more security and this means more connectivity. This means more passenger experience and comfort."
Sirika also described Wednesday's incident involving a Dana Air plane at the Abuja airport as a "minor incident" already being investigated.
"The Nigerian Civil Aviation Authority (NCAA) is presently investigating it and the reason it is investigating it is because it falls within their purview to investigate minor incidents of this nature.
"If it had been a serious accident or serious damage to the aircraft, it would have been the Accident Investigation Bureau (AIB) investigating it.
"I've been following up since yesterday when I learnt of it with NCAA.
"They are investigating it, and within very few hours, within one day or so, they will come out with a report and we will explain to Nigeria what happened.
"I want to use this opportunity to say that what has happened, though very scary and uncomfortable, is an incident that is minor.
"That kind of thing would not happen in-flight at altitude as to cause an accident or serious degree incident. So we thank God for that.
"The airline is being investigated and NCAA is doing its job, and I cannot be preemptive of their investigation. I hope the investigation will not last longer than a day or two," he said.