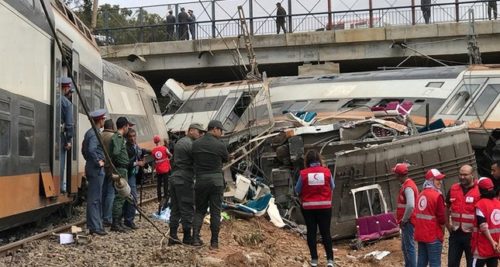 A train on Tuesday derailed near the Moroccan capital killing at least six people and injuring dozens of others, a railway official said.
"The derailment has killed six people according to the latest count and left 86 injured in serious condition," Head of Morocco's National Railway Company ONCF, Mohamed Rabie Khlie, told reporters at the scene.
"An investigation has been opened to determine the causes of the accident," said Khlie.
An AFP photographer said rescue teams were working to retrieve bodies from the overturned train whose carriages had toppled across the tracks.
The crash occurred some 20 kilometres (12 miles) north of Rabat between the towns of Kenitra and Sale, with local media saying the train driver was among the dead.
King Mohammed VI said he would pay the burial costs of the victims and for the treatment of the injured, who were taken to Rabat's military hospital, according to a royal cabinet statement.