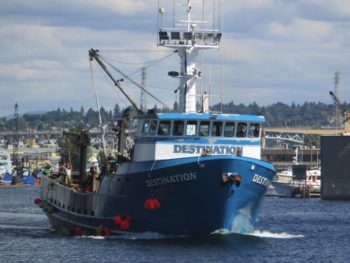 The U.S. Coast Guard is continuing to search for the six missing crewmembers of the Seattle-based crab fishing vessel Destination, which is believed to have sunk in the Bering Sea off St. George, Alaska over the weekend.
The Coast Guard said Saturday that it had launched a search after picking up an electronic position indicating radio beacon (EPIRB) alert from the fishing vessel approximately two miles northwest of St. George in the Bering Sea.
The EPIRB was recovered among a debris field containing buoys, a life ring from fishing vessel Destination and an oil sheen, the Coast Guard said.
Weather on scene on Saturday was reported to be 30-mph winds with five to eight-foot seas and snowing. Air temp was reported to be 21 degrees with a sea temperature of 3o degrees.
The Coast Guard Cutter Morgenthau arrived on scene Sunday at 10 a.m. to assist with an Air Station Kodiak MH-65 Dolphin helicopter crew currently deployed on the cutter. Citizens of St. George have also been patrolling the shoreline for any signs of the crew or vessel.
Coast Guard crews assisting in the search included two HC-130 Hercules airplane crews, two MH-60 Jayhawk helicopter crews, an MH-65 Dolphin helicopter crew, as well as the Morgenthau.
An active search was still underway of Monday.
"Prayers are needed for our brothers on the F/V Destination and their families," said Capt. Casey McManus, captain of the "Deadliest Catch" fishing vessel F/V Cornelia Marie. "Their EPIRB went off this morning triggering a search by the US Coast Guard. So far, a life ring, the EPIRB and some debris is all that had been recovered. An oil slick has been report on the surface, and a Hercules -130 aircraft and two Jayhawk choppers are conducting a search pattern along with the Silver Spray and the Bering Rose. The wind has come down, but it's only 20 degrees and the seawater is 30. Please pray. The picture below does not do the boat justice. It was a very sturdy platform that was maintained at the highest levels. So hard to believe it could happen to a boat like this, with an amazing crew."