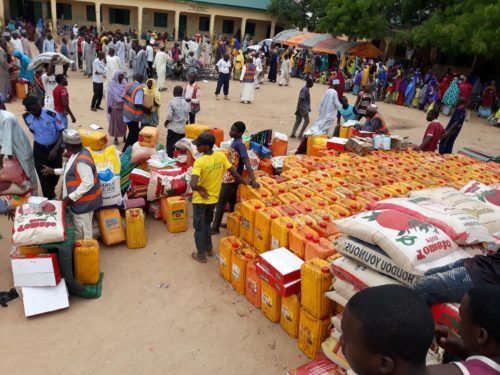 The Controller, Federal Operations Unit, Zone 'A' of the Nigeria Customs Service, Comptroller Muhammed Aliyu, has said that contrary to insinuations in some quarters, not all smuggled foreign rice are unfit for human consumption.
Recall that Comptroller-General of Customs, Hammed Ali, had said that 99 percent of rice smuggled through the land borders is not fit for human consumption.
Speaking to journalists in Lagos on Thursday, Aliyu said the unit intercepted 25,153 bags of foreign parboiled rice smuggled into the country through the land borders and they have been earmarked for donation to the Internally Displaced Persons (IDPs).
He explained that the rice donated to IDPs by the Service in line with a Federal government directive is not poisonous as they have been tested and certified by the National Agency for Food, Drug Administration and Control (NAFDAC).
He said, "We have over 25,153 bags of rice worth over N331million waiting for directive from Abuja to IDPs. We don't give poisonous rice to IDPs' as insinuated by some people.  For example, we seized a company vehicle that carried cement and rice. The rice is loaded in the middle of the cement and this is what they sell to the innocent public.
"We take this rice to NAFDAC for testing before we give it to orphanage homes. If they say it is not good for human consumption, we won't give it out but destroy.  So we don't give expired rice to IDPs. We sort out the most poisonous one while we give the good to the IDPs."
Aliyu said the unit also intercepted 140 bundles of textile materials worth N11.2million smuggled into the country through the land border.
He added that 16 vehicles worth over N470 million were also intercepted in the months under review. The seized vehicles include a Toyota Land Cruiser worth N189million, Mitsubishi Pajero, Land Cruiser, Toyota Venza, Mercedes Benz, Volks Wagon, and Toyota Yaris among others.
While reiterating that the federal government ban on importation of used and new vehicles as well as foreign parboiled rice through the land borders is still in force, the Customs boss advised importers to use the nation's port to bring in their consignment and pay appropriate Customs duty to avoid losing their investments.
"These are the 16 vehicles worth over N347 million including one bullet proof vehicle. The vehicles are abandoned after heavy chase by our operatives along Oyo and Ogun border.
"The Federal Government policy banning importation of vehicles through the land borders is still on, so let them come through the port and pay their duty. The question is why are importers putting themselves on the risk losing a lot of money for nothing? Why can't they come to the seaports?  Look at the bullet proof vehicle worth N189 million why should a reasonable person smuggle this when he can use the seaport?  He only needed to get the end user certificate and pay normal duty," he said.
Others seizures recorded by unit include 49 cartons of re-boiled paracetamol injection worth N39.2million; 86 sacks of used shoes worth N10.3million and 820 sacks of donkey skins worth N78million, 347 cartons of codeine syrup at N174million; 1000 sachets of tramadol at N250,000 and Indian hemp worth N11million.