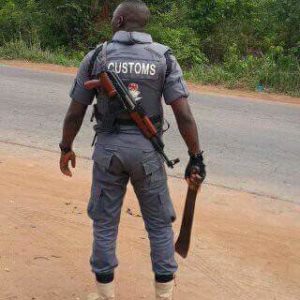 The Ogun State Area Command of Nigeria Customs Service (NSC), has said one of its operatives, Muhammed Maigari, was macheted by armed smugglers at Ibeji River around Idogo-Ifoyintedo axis in Ipokia Local Government Area of the state, and currently under intensive medical attention.
The incident was said to have occurred on Wednesday 7th January, 2018.
The injured Maigari who is from the Federal Operations Unit but posted to Idiroko border axis, was said to have been dealt a life-threatening cut in his left upper arm by the smugglers.
Maigari and some of his colleagues were said to be on a routine patrol when they got a report that some smugglers were approaching the Ibeji River with a smuggled Toyota Highlander, and they proceeded to the location in order to intercept the vehicle.
The Public Relations Officer, NCS Ogun Area Command, Abdullahi Maiwada, disclosed that though the vehicle was successfully intercepted, the smugglers attacked the operatives.
He said the smugglers attempted to disarm Maigara but they were unsuccessful, and they wanted to cut his head with the machete but he blocked it with his arm, which resulted in the life-threatening cut in his left upper arm.
Maiwada said, "One of our operatives was savagely attacked with a machete on Wednesday at Ibeji River around Idogo-Ifoyintedo axis in Idiroko.
"The cut was life-threatening. The smugglers were armed and they confronted our operatives. But since we did not want any loss of lives, our operatives successfully intercepted the Toyota Highlander being smuggled through the forest.
"It is currently in the command's custody at sentry, Idiroko border. The command will not relent in curbing smuggling activities around Idiroko border and Ogun State as a whole."
The command's spokesman said Maigari was first rushed to the General Hospital at Idiroko for treatment, but he added that the injured officer, had since been transferred to the National Orthopaedic Hospital, Igbobi, Lagos, for comprehensive treatment.