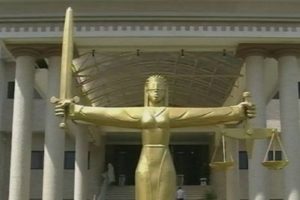 A former Director, Finance and Accounts, Nigeria Air Force (NAF), Air Commodore Salisu Yusha'u (rtd), on Friday told the Federal High Court, Abuja, that no receipts were issued in the alleged N558 million monthly upkeep for the former Chief of Air Staff, retired AVM Dikko Umar.
Yusha'u, the star witness of the Economic and Financial Crimes Commission (EFCC) in the trial disclosed this when he concluded his evidence-in-chief.
The witness who was cross-examined by Umar's counsel, Ibrahim Bawa (SAN), said the payments made to Umar were not captured in the cash and votes books of NAF.
He had told the court that Umar had allegedly collected over N13.3 billion spread across two years for office maintenance from the NAF treasury.
But under cross-examination, Yusha'u told the court that he personally handed over the money to Umar and no receipt was issued in respect of the transaction.
The defence team had in the course of the trial, tendered in evidence, a book titled: "Manual of Financial Administration of the Armed Forces of Nigeria, 2012", which provides that receipts be issued on all payments made by any of the forces.
Though the prosecuting counsel, Sylvanus Tahir, objected to the admissibility of the book on the grounds that it was not certified as a public document by the relevant authorities, the court admitted it in evidence.
The witness also testified that the former COAS executed laudable projects during his tenure as Chief of Air Staff.
The trial judge, Justice Nnamdi Dimgba, adjourned the matter until March 20 and March 21 for continuation of trial.
Umar is standing trial on a seven-count charge bordering on financial misappropriated of funds belonging to the Nigeria Air Force between 2010 and 2012.