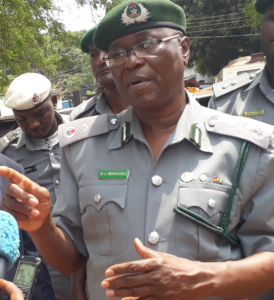 Controller, Ogun Area Command of the Nigeria Customs Service, Comptroller Sanni Madugu in this interview, said incessant attacks on officers will not deter the command from pursuing smugglers. He told Shulammite 'Foyeku that the combined efforts of the Intelligence unit of the command and support from other security agencies in the State contributed in no small measure to the feat recorded by the command under his watch.
Excerpts:
Apart from the attack which left one of your officers with life- threatening machete wounds last week, how many cases of attacks or deaths has the command recorded so far?
Attacks on Customs officers is a daily occurrence in Ogun command. The only thing is that the level of attacks varies with the incident. Within this year alone, we have been attacked more than four times. Although we are repelling them, we are careful with the way we retaliate.The smugglers are usually armed with cutlasses butwhen they see a good number of us with rifles, they run into the bush. No day goes by without an attack from smugglers but we have been able to overcome them so far. The last incident that happened around the River side was the worst attack that we have recorded this year. One of our officerswho was severely wounded, is responding to treatment.
The command under your watch has been making outstanding seizures of vehicles and rice. How have you been able to achieve this feat in the face of these attacks?
We stepped up anti-smuggling activities and blocked most of the smuggling routes. As a result, we have been making seizures and arresting smugglers.We are succeeding like we did last year. Within the last two weeks, we have impounded a total of 1,168 bags of rice, 481 kegs of vegetable oil and 12 vehicles that are considered to be means of conveyance where we seize the items. In addition, 21 motorcycles and 12 Tokunbo vehicles excluding a new Range rover were also recently intercepted. The total value of the items seized within this period, in the Idiroko axis of Ogun command is put at N153.8million. We also have more seizures in Abeokuta axis of the command.
We call on well-meaning Nigerians, to please help the Nigeria Customs Service especially in Ogun State; our lives are in danger. Smugglers see what they are doing as a legitimate means of livelihood but we don't see it that way. The laws of the landforbid the importation of vehicles and rice through the land border. The federal government has invested so much into production of rice locally. Ogun State where we are operating has invested a lot of money in producing rice especially Ofada rice. The governor of Ogun State, Ibikunle Amosun should equally be commended alongside the federal government because the two governments are working hard to produce rice locally. How can we continue to depend on imported rice? We don't know how long the imported rice has stayed from where they are coming from and we don't know the source of this rice but the government is helping us. Why then can't we support the local production of rice in Nigeria? To deter us, smugglers now write petitions against my officers and men but we are not bothered. We will continue to seize rice and vehicles being ferried from Benin Republic into Nigeria. Officers of the command are working 24/7. Our efforts are being complemented with those of the Valuation unit, Compliance unit and the Strike Force of the headquarters, whom are all blocking the loopholes for us. The Federal Operations Unit, the Nigerian Army, Immigration, Civil Defence and Controller of Prison, and Police are always in synergy with us. The support from all security agencies, has emboldened us to work harder. We will continue to put in our best. When a smuggler succeeds, he makes a profit but if their goods are impounded on subsequent trips, they go back to square one. We also need the support of the media in publicizing these things. Let the public know and compare for themselves, the results of our activities as against the petitions being written by smugglers.
You said some of indigenes in Ogun State see smuggling as legitimate business. To what extent are you relating with traditional rulers to help you in the fight against smuggling?
The traditional rulers are helping us especially the paramount ruler of Yewa land. He is giving us support and addressing his people but unfortunately, the smugglers do not listen to him. So, if they don't listen to him, what will he do? He has no gun and owns no prison. Nigerians have greater love for money, and if you tell a young boy who has not gone to school not to smuggle goods, what will he do? The only language they understand is seizure, arrest and prosecution, and we will continue to do that.
From all the seizures recorded so far, how many suspects have you arrested and prosecuted?
The persons who fund the trip are not the same persons that bring in the smuggled items to Nigeria. They pay boys who drive these smuggled vehicles from Benin Republic to Nigeria, between N20, 000 to N30, 000. The boys are not the real smugglers although wehave arrested and prosecuted some. We know they are just drivers to smugglers but they will never tell you who the real smugglers are. The smugglers are not domiciled in Ogun State. Most of the importers of these vehicles are scattered all over Nigeria, not in one particular place. We will continue to track them and more of them will be prosecuted in the law court.
How would you compare the volume of seizures in the command now and what was recorded within this period last year?
I was not here January last year but our records show that from May 2017 till now, the volume of seizure hasmore than doubled. This is due to the synergy I created between my officers and myself. The strategy that we have designed in collaboration with other units and the level of intelligence we receive isencouraging. I commend everyone concerned; they should keep up the good work so that more seizures will come into the command.
What is the level of compliance by manufacturing companies with regards to payment of excise duties?
Excise duty is clear because you cannot run away from it. We can detect underpayment even after a few weeks or months because we have records of statistics and daily production from these factories which we can compile to cross check with our own record. If both records tally, we sign it for them to go and pay but if they don't, we will give them the additional payment and they pay. Excise payment of duty is going on smoothly in Ogun command; the Excise traders are above 90 percent compliant in Ogun. It is only few of them that we are battling with to comply. However, smuggling is the main problem in Ogun State. We cannot prevent it here in Nigeria because the smuggling activities start from Benin Republic. They don't organize it here in Nigeria, the activities of smuggling into the country starts from outside Nigeria and you don't have control over what is outside Nigeria. You can only do things that are within your country. We are officers of the Nigeria Customs Service not Benin Republic Customs. Rice and vegetable oil is not prohibited in Benin Republic. Importation of vehicles through the land borders in Benin Republic is not prohibited. Their regulation is, you bring it to the seaport and you pay your taxes there. Nigerians are paying those taxes there but they don't want to pay the taxes here in Nigeria. That is why they are taking it to Benin Republic. If they want to pay the current taxes, they will take it through Apapa or Tin can port.
Copyright Ships & Ports Ltd. Permission to use quotations from this article is granted subject to appropriate credit given to www.shipsandports.com.ng as the source.