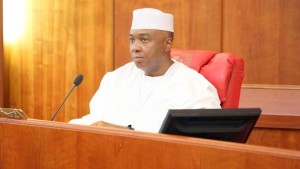 The President of the Senate, Dr. Bukola Saraki, has described the high rate of smuggling of agricultural products into the country as "economic sabotage."
A statement by his Special Assistant on Print Media, Chuks Okocha, on Tuesday in Abuja, said Saraki said this when he received representatives of Poultry Farmers' Association of Nigeria who visited him.
"We all know that about 40 per cent to 50 per cent of poultry products are still being smuggled into the country and this is bad.
"Something needs to be done about it. Nigeria Customs must sit up because it is an economic sabotage.
"It is now that we must stop this smuggling particularly on agricultural products like rice and chicken.
"We will take this up aggressively. Without that, we are only wasting our time. Nothing we are going to do at this level in support of agriculture if products are still going to be smuggled in.
"Chicken is still being smuggled in and rice as well. This is something we must fight as a nation.
"This is economic sabotage we are talking about and the management of the Nigeria Customs must rise up, either they are ready to do it or we give it to people that are ready to do it.
"If there are challenges the Customs is having, let them tell us. We are ready to support them. This is a fight we must win.
"Ordinarily, if we are talking about diversifying the economy and we still allow the smuggling of chicken, there is no way organizations like your own can survive,'' he said.
On non-payment of compensation to farmers who lost their birds to the outbreak of the Avian Influenza, Saraki said that the senate would play its part to ensure that affected farmers were compensated.
"We will see what we can do particularly on the issue of non-payment of compensation to farmers that lost their birds to the Avian Influenza. These farmers who are doing well need our encouragement.
"This is where government will show true interest in agriculture and ensure that all compensation is paid,'' he said.
On access to finance, Saraki decried the high interest rate charged by banks, saying, "I am surprised and this is the aspect we have to take up''.
He expressed concern that farmers borrowed money from banks at interest as high as 25 per cent, adding that the Central Bank of Nigeria (CBN) ought to support farmers, particularly the serious ones.
Earlier, the leader of the group, Alhaji Usman Dantata, said that the progress of poultry farming in the country was being undermined by the activities of smugglers and high interest rates.
He said, "we humbly request you to implore the Nigerian Customs Service to do more to curtail the level of smuggling.
"We are equally concerned about difficulties in accessing finance for poultry and other agriculture production by most farmers.
"Where available, the interest rate is between 25 per cent and 27 per cent and the collateral terms are very stringent and the tenure of loan is very short.
"The repayment plan does not match the long term nature of our business and the potential cash flow available for debt service of agriculture business in Nigeria.''  
Copyright Ships & Ports Ltd. Permission to use quotations from this article is granted subject to appropriate credit given to www.shipsandports.com.ng as the source.