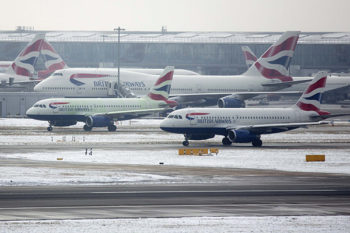 Passengers at Heathrow Airport face a second day of snow chaos as wintry weather leaves flights cancelled and delayed.
Sleet and snow showers are expected across the capital after temperatures plunged to -11C across parts of the UK.
Airline passengers face yet another day of queues and cancellations at airports across the capital with Heathrow worst hit.
Heathrow, London City Airport and Luton have advised passengers to check their flights before travelling.
British Airways customers have been urged to contact their flight operator directly after it made an agreement with Heathrow to amend services due to poor weather conditions.
A spokesman for Heathrow said some disruption was due to staff and planes being "displaced" due to Sunday's freezing conditions.
Customers whose flights have been delayed have been warned not to travel to the airport.
A statement posted on the airport's website said: "We're working with our airline partners to return aircraft to where they need to be, and full service recovery remains the focus.
A spokesman for British Airways added: "Heathrow is continuing to experience severe adverse weather conditions. As a result of the forecast of continued bad weather we have agreed with Heathrow Airport, National Air Traffic Services (NATS) and other airlines to reduce our flight schedule from Heathrow on Monday December 11."
Frustrated passengers took to social media to vent their fury at delays.
Many shared images of long queues and cramped terminals.
One person wrote: "Absolute chaos at Heathrow."
Another branded the airport a "nightmare" and said: "Hours-long queues blames on "weather" conditions but only 25 per cent of check-in desks open. Disgraceful."
Flights from London City Airport also face delays and cancellations.
According to the airport's website around a dozen flights were delayed and cancelled this morning.
Stansted Airport said runways were "back up and running" with most flights running to schedule.
Luton told customers that while runways are operational, more snow is expected from 12 noon and advised passengers to check their flights before travelling to the airport.
The delays come following the capital's largest snowfall for nearly five years on Sunday.
Passengers faced a day of chaos with some 50,000 BA customers reportedly hit by delays.
Passengers arriving at Heathrow were stuck on the tarmac for hours yesterday while departing flights were cancelled at short notice as the cold snap brought the airport's operations to a shuddering halt.
Rail and road travellers are also set to face another day of chaos due brought on by the cold snap.
Agency Report