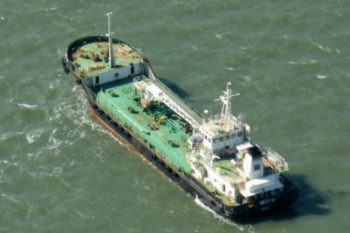 Somali pirates that hijacked the bunker tanker Aris 13 in the Gulf of Aden on Tuesday have demand a ransom according to EU Naval Force (EU Navfor).
EU Navfor said it had received confirmation from the Master of the Comoros-flagged tanker that the vessel and its crew were being held captive by armed pirates in an anchorage off the North Coast of Puntland.
"The master confirmed that armed men were on board his ship and they were demanding a ransom for the ship's release.  The EU Naval Force has now passed the information regarding the incident to the ship's owners," EU Navfor said.
According to the naval force the tanker was attacked shortly after a mayday from the master that two skiffs were closing in on the vessel.
"Upon receipt of the mayday alert, an EU Naval Force maritime patrol aircraft was launched from its base in Djibouti to overfly the tanker and make radio contact with the ship's master.  Despite hailing the ship several times, no contact was made and the situation on board remained unclear until late this (Tuesday) afternoon, when the EU Naval Force operational HQ in London was able to make telephone contact with the ship's master."
The first successful hijacking by Somali pirates of a merchant vessel since 2012 will spark concerns of a resurgence of piracy in the region which hit crisis proportions in 2009 – 2011. The International Maritime Bureau (IMB) warned in its 2016 annual report: "The IMB PRC (Piracy Reporting Centre) believes that a single successful hijacking of a merchant vessel, will rekindle the Somali' pirates desire to resume their piracy efforts."