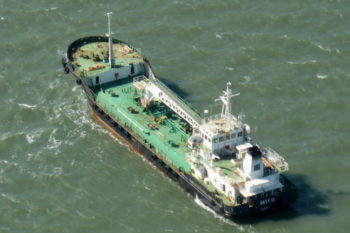 Somali pirates have taken over a small Somali boat to use as a base to attack larger ships, Somali police said on Friday. Ten Yemeni crew aboard the boat were dumped on shore, officials said.
"We understand that pirates hijacked the fishing vessel to hijack a big ship off the ocean," said Abdirahman Mohamud, head of maritime police forces in the semi-autonomous Puntland region.
"They dropped its 10 Yemeni crew and a Somali guard inland and disappeared with the boat together with the food, cook, captain and engineer," he said.
Residents of the northern Somali city of Eyl confirmed that pirates from their village had gone to seek potential targets.
It is the second such attack this month. On March 13, pirates hijacked an oil tanker in the same region.
That hijacking was the first time that pirates had taken over a commercial ship since 2012. After that, shipping firms hired private security and international warships began patrolling waters.
In their heyday in 2011, Somali pirates launched 237 attacks off the coast of Somalia, data from the International Maritime Bureau showed, and held hundreds of hostages.