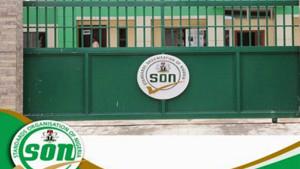 The Standard Organization of Nigeria (SON) has instituted a 16-man Surveillance, Investigation and Monitoring (SIM) unit to strengthen its data gathering capacity and bridge information gaps in its operations.
The team in collaboration with the Federal Operations Unit of the Nigerians Customs Service and other security agencies on intelligence gathering and sharing will undertake quality assurance activities, enforcement and regulatory actions to curb the unbridled influx of substandard products into the country.
SON Director General, Osita Aboloma, disclosed that the initiative was backed by the organization's 2015 Act, mandating it to interact with stakeholders in the aspects of standards enforcement, factory inspection, market surveillance, product registration, management systems, sensitisation among others.
According to Aboloma, the SIM unit will be domiciled in Lagos under the leadership of the Deputy Director, Isa Suleiman, who will coordinate operations and administration/logistics and give reports to the Director-General.
He explained that the decision was in line with the anti-corruption drive of the present administration and critical to its role of protecting the economy while maintaining the ease of doing business.
"The handling of these activities is critical to the overall reputation of SON, thus necessitating that the chief executive has all information at his fingertips to boost his capacity to respond adequately in the overall interest of the nation's economy. This is also expected to promote effective delivery and turnaround," Aboloma said.
Assuring the Director-General of his commitment, Suleiman said: "I wish to express appreciation for the confidence expressed in us by the management. We have been given the terms of reference on exactly what we are to do and the team has been carefully selected based on integrity and I assure you of performance. For every assignment, the monitoring team will be there and report."