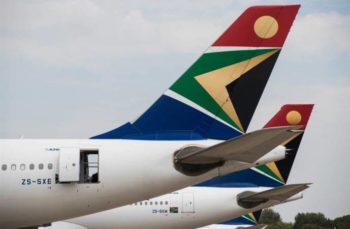 South Africa's Treasury is considering a 13 billion rand ($972 million) bailout to keep South African Airways (SAA) going as it battles a mounting cash crunch, Finance Minister Malusi Gigaba said on Friday.
The national carrier, which was given state funds in July to help it repay debts, in addition to about 20 billion rand in government guarantees to keep it solvent, is among state firms that credit rating agencies say should be reformed.
They have cited the cost of propping up the airline as a threat to the sovereign credit ratings of Africa's most industrialised economy, which S&P Global Ratings and Fitch have already downgraded to "junk".
"We are in discussions about that and at the medium term budget statement in October I will make the necessary announcement," Gigaba told Talk Radio 702, referring to the prospective bailout.
SAA executives later told a parliamentary committee it would face a liquidity crisis if it does not receive the 13 billion rand injection from the Treasury to meet its debt obligations and cover operating costs.
The airline said in a financial plan presented to the committee that its plans showed it was not generating enough cash but that it would turn a profit by 2019 on an EBITDA basis.
The airline also said debt maturities had been negotiated and extended to the end of September this year.
"The overall findings of the financial modelling show that cash flows generated by SAA are not sufficient to cover the operations of the business," an executive summary of SAA's corporate plan for April 2017 to March 2022 showed.
A turnaround strategy for the airline must be pursued "aggressively", Gigaba told the parliamentary committee.
"We will deal with the remedial action proposed in those reports because they raise quite serious issues that need an urgent response from us," he said referring to the SAA turnaround plan presented to the committee.
The Treasury is concerned that if SAA fails to meet its debt obligations, it may have ripple effects on the government's wider guarantee framework. Many of South Africa's other 300-odd state-owned firms are also a drain on the government's purse.
The Treasury said on Thursday it had appointed Vodacom Group executive Vuyani Jarana as SAA's chief executive. Jarana becomes the first permanent chief executive at the troubled airline in over two years.