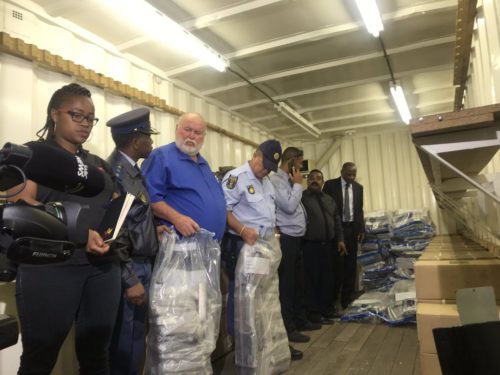 A joint raid by South African security agencies and Interpol on a vessel at Coega Harbour northeast of Port Elizabeth on Monday, led to the seizure of approximately R700 million worth of uncut cocaine.
The South African Police Service in a statement released on Tuesday said the seizure of the 706 kg of the illicit cargo was as a result of an intelligence report from Interpol about a vessel carrying 706 kg of cocaine from Brazil to South Africa.
The consignment of 706 cocaine bricks was discovered concealed at the bottom floor of the ship below more than 3669 containers, the police said.
The National Head of the Directorate for Priority Crime Investigation, Lieutenant General Godfrey Lebeya, commended the multi-disciplinary team for the considerable seizure.
"By confiscating this cargo, we have severed the supply chain. But the war on drugs has neither been lost nor won. We are still going to put more efforts in targeting the supply of these dangerous dependent producing substances. We will not be allowing these substances to go and ruin the lives of innocent people whose health are being turned into drug addicts.
"We want to thank all those who continue to provide us with the information and we will continue to respond. The investigation in this matter continues," he said.