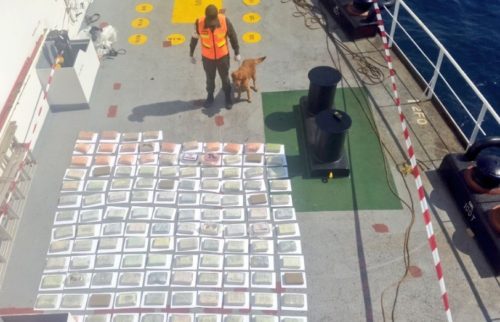 Federal authorities have seized approximately 16.5 tons of cocaine from a ship at the Port of Philadelphia, the U.S. Attorney's Office for the Eastern District of Pennsylvania tweeted Tuesday.
The drugs were seized on a ship at the Packer Marine Terminal on the Delaware River.
The U.S. Attorney's office said the drug bust marks the largest drug seizure in the history of the district. The drugs have an estimated street value of approximately $1 billion the office said.
At least some crew members on board the ship have been arrested, the Attorney's office said in another tweet.
Authorities said investigation into the seizure is ongoing.
Local NBC affiliate NBC10 reported that federal agents were seen boarding the MSC Gayane on Tuesday. AIS data shows it arrived at the port early Monday morning. The ship had previously called at Colombia, Chile, Panama and the Bahamas, the report said.
Back in March, a joint operation involving the U. S. Customs and Border Protection seized approximately 3,200 pounds of cocaine from a ship at the Port of New York and New Jersey in what officials at the time said was the largest seizure of drugs at the port since 1994.