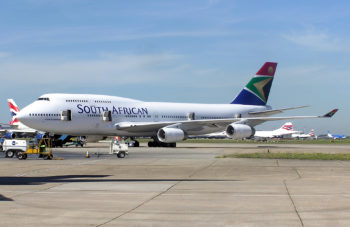 The National Union of Metalworkers of South Africa (NUMSA), has said South African Airways' (SAA) catering arm plans to lay off 118 workers, as the struggling airline implements a turnaround strategy to restore profitability.
NUMSA said it had received notice of the layoffs from the catering arm, called Air Chefs, and said it would oppose the planned job cuts.
"Air Chefs intends to retrench 118 workers out of a workforce of about 1,200 people," the union, one of South Africa's largest, said in a statement late on Sunday.
"NUMSA demands that any discussion regarding retrenchments should take place within the SAA group which is the mother company. Our members demand that any restructuring must take place at a group level and should not be decentralised," it added.
NUMSA said it was engaging with SAA Chief Executive, Vuyani Jarana, on the planned job cuts and consultations are expected to take place on Friday.
An SAA spokesman had no immediate comment.
South African Airways mapped out a turnaround strategy in March to make the struggling airline more competitive and cost-efficient after reporting a hefty annual loss.
SAA, which has not generated a profit since 2011, survives on state guarantees and is regularly cited by credit ratings agencies as a drain on the government purse.
Agency Report