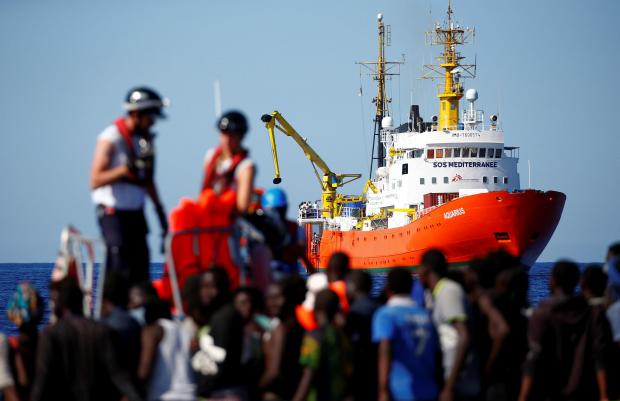 Spain on Monday offered to take in a humanitarian ship stranded in international waters with 629 migrants aboard as Italy and Malta both continued to refuse to let it dock.
The European Union and the U.N. refugee agency had called for a swift end to the standoff involving the Gibraltar-flagged Aquarius ship, whose passengers include 11 children and seven pregnant women rescued off the coast of Libya at the weekend.
The ship had sailed north towards Italy but Matteo Salvini, the head of the far-right League party who became interior minister this month vowing to curb an influx of migrants from Africa, blocked it and said it should go to Malta instead.
Malta refused, saying it had nothing to do with the rescue mission, which was overseen by Italian coastguard. The tiny island nation with fewer than a half a million inhabitants says it already accepts more refugees per capita than Italy, which has taken in more than 600,000 boat migrants since 2014.
"Saving lives at sea is a duty, but transforming Italy into an enormous refugee camp is not," Salvini said on Facebook on Monday. "Italy is done bowing its head and obeying. This time there's someone saying no."
In a possible solution to the impasse, Spanish Prime Minister, Pedro Sanchez, a socialist who took office just over a week ago, gave instructions that the ship be allowed to dock in the eastern port of Valencia.
Hearing of Spain's offer, Salvini said the standoff had been resolved thanks to the "good heart" of the Spanish but the EU could not rely on such one-off gestures to deal with migrants reaching Italy.
Spain's step will raise pressure on EU partners ahead of a June 28-29 summit as Italy seeks changes to the bloc's asylum law so that all countries share the burden of the mass arrivals.
"This is the big moment for Salvini to put his money where his mouth was," one EU official handling migration issues said before Spain's offer was announced.
"Salvini will be hoping either for the migrants to be put ashore in a different EU country, or he will eventually let them land in Italy in return for concessions for Italy's case from the EU," he added.
SOS Mediterranee, the charity co-operating the migrant ship, said it was awaiting instructions about where to disembark from Italy's coastguard, which coordinated the sea rescues.
Valencia is almost three days' voyage for the Aquarius, while Italy and Malta are just hours away.
Maltese Prime Minister, Joseph Muscat, was also appreciative of Spain's move though said migrants were an EU-wide matter.
"I thank Spain PM Sanchez for taking in Aquarius after Italy broke international rules and caused a standoff," Muscat said on Twitter. "Malta will be sending fresh supplies to the vessel. We will have to sit down and discuss how to prevent this from happening again. This is an European issue."
Pictures from aboard the Aquarius, which is operated by SOS Mediterranee and Doctors without Borders, showed hundreds of Africans huddled aboard, including a young girl wrapped in a blanket in the arms of a rescue worker.
"People are in distress, are running out of provisions and need help quickly," the U.N. refugee agency had said in a statement, urging governments to set aside political considerations.
"Broader issues such as who has responsibility and how these responsibilities can best be shared between states should be looked at later," UNHCR special envoy, Vincent Cochetel said.
SOS Mediterranee said the Aquarius had enough supplies to feed the migrants at least for another day.
Agency Report