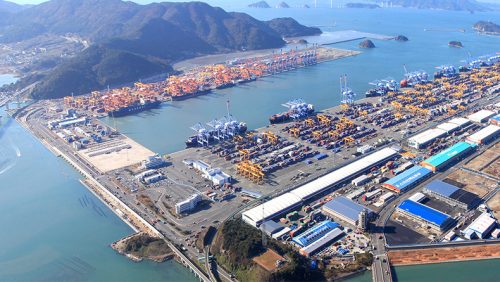 South Korea is planning to invest a total of KRW41.8tr ($35.2bn) to expand capacity at 12 ports across the country over the next 20 years, reports said.
The ambitious plan includes expanding cargo handling capacity at the 12 ports to 1.85bn tonnes by 2040 from 1.32bn tonnes in 2017, container handling capacity to 48.73m twu from 27.17m teu in 2017, according to South Korea's ministry of oceans and fisheries.
The Korean government will inject KRW16.03trn directly and the remaining KRW25.77trn will be raised from the private sector. Busan port alone will receive KRW13.6trn of investment.
Located on the southern coast, Busan port is South Korea's main sea gateway and also the world's sixth busiest container port, handling 21.6m teu in 2018.
"We will make Busan port the world's third largest port by 2040," an official from the ministry of oceans and fisheries told reporters.
The Korean government plans to improve Busan port infrastructure by adding 21 berths and making it capable of accommodating 25,000-teu containerships.
The country also plans to create two new port – one in the southern resort island of Jeju and another in Donghae on the east coast, with a goal to develop new Jeju port as a major cruise stopover and Donghae port as a cargo port.