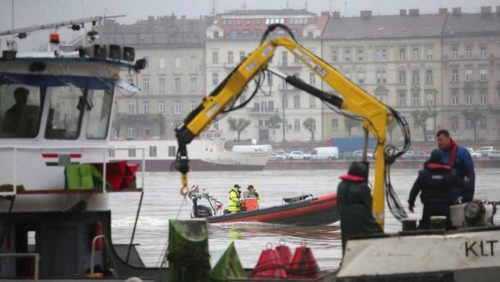 South Korea on Friday vowed not to give up hope in the desperate search for 21 people still missing two days after a sightseeing boat carrying mainly South Korean tourists sank on the Danube River in Budapest, Hungary.
Rescuers are battling strong currents on the swollen river in their search for any more survivors of the Mermaid sightseeing boat, which overturned and was swallowed by the Danube just seconds after it collided with a much larger cruise ship in pouring rain late Wednesday.
Hungarian police have detained the captain of the river cruise ship involved in the crash on a busy stretch of the Danube near the parliament building.
South Korea's Foreign Minister Kang Kyung-wha has arrived in Budapest with an emergency task force and visited the site of the crash on Friday along with her Hungarian counterpart, Peter Szijjarto.
"We have firmly decided that we won't give up our hopes about the possibility of finding survivor until all the missing are located," she said at a press conference in the Hungarian capital.
But the prospects of finding any more survivors are seen as very slim, as attempts by hundreds of Hungarian police and army rescuers to find the victims and reach the submerged vessel are hampered by fast-flowing currents.
Mourners have laid flowers along the banks of the waterway for the seven South Korean tourists who are known to have been killed and the 21 people who remain missing — including a six-year-old girl and the boat's Hungarian captain and a crew member.
Only seven people are known to have survived so far.
Police said Thursday they had detained the Ukrainian captain of the larger ship, the Viking Sigyn, for questioning over the incident.
In a statement they said that 64-year-old Yuriy C, a resident of Odessa, was "questioned as a suspect… in relation to 'endangering waterborne traffic resulting in multiple deaths'".
Source: AFP