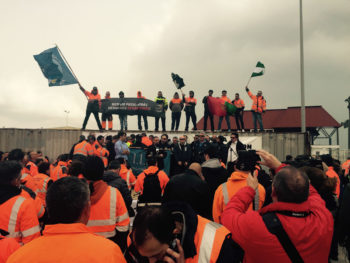 The Spanish Council of Ministers approved a royal decree on the port system reform on February 24. As a result, the country's dockworkers plan to stage new strikes, starting from March 6.
The new law, which is in line with the requirements of the European Union, will enable ports to hire non-unionized dockworkers instead of the unionized ones.
In addition, under the new law, stevedoring companies will not have to be members of local stevedoring societies known as Sociedad Anonima de Gestion de Estibadores Portuarios (SAGEP).
Under the current stevedoring system, ports have to hire workers belonging to SAGEPs.
The country's government said that the new port system has "maximum flexibility", respecting workers' rights and enabling competitive equality.
According to the newly adopted decree, there will be a transitional period of three years for workers and companies to adapt to the new legal framework.
Earlier this month, Spanish trade unions announced strikes as a response to the government's reform plan according to which at least 6,500 dockworkers could be laid off in the future.
However, strikes were called off after the government promised it would postpone plans and start negotiating with trade unions.
Spanish union Coordinadora Estatal de Trabajadores del Mar (CETM) said that despite the offer to join the negotiating table with dockworkers, Inigo de la Serna, the country's Minister of Public Works, decided to go ahead with the plan and approve the decree.
CETM said that workers "absolutely and vigorously reject" the approved decree which will cause "destabilization of one of the most prosperous industries" in Spain.
Consequently, Spanish dockworkers intend to organize new strikes which could disrupt trade in this country.
Ports in Spain will be affected by industrial actions on March 6, 8, 10, 13, 15, 17, 20, 22 and 24. Strikes will be held every other hour, starting at 8:00 a.m. local time, Hapag-Lloyd AG informed.
Copyright Ships & Ports Ltd. Permission to use quotations from this article is granted subject to appropriate credit given to www.shipsandports.com.ng as the source.