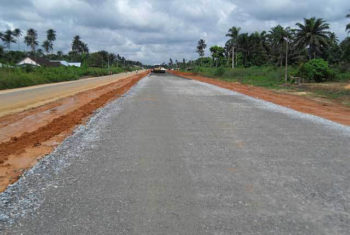 By Patience Danjuma 
Nigeria's Minister of Niger Delta, Usani Usani, has said that the East-West road in the region was designed to fail. He also said the federal government has so far spent N300 billion on the project.
Usani stated these on Wednesday while briefing State House correspondents after a meeting of the Federal Executive Council (FEC), which held inside the council chamber of the Presidential Villa, Abuja.
The minister earlier said his ministry had sought for and gotten the nod of FEC to construct a new office for the Niger Delta Development Commission, NDDC at the cost of N16 billion.
He was then asked why he chose to prioritise the building of a new office for NDDC instead of completing the East-West road considered important for the people of the region.
In his reaction, Usani said the road requires N30 billion to be completed and the N16 billion proposed for the NDDC headquarters is not enough to complete it.
"When you talk of N16 billion as if it is so relevant in completing the East-West road, I wish to tell you that the outstanding certificate on the east west road amount to N30 billion.
"So, if we put N16 billion there, in fact one and the other are not substitutes. Two of them are essential infrastructure projects that must go on, so it doesn't mean that if we put that money on the East-West road then it satisfies the needs of housing the NDDC," he said.
The minister said the East-West road is a project that has been messed up from inception. He said it was "naturally designed to fail by all the agreements and designed concepts that we have seen."
He said he is presently "putting things in order" to ensure the project is completed.
"The project started more than a decade ago and in 24 months we have made the progress we have made on that project, correcting even the construction deficits in the area, then I think you should be able to appreciate what we are doing.
"The Niger Delta region has a prime position in our preference to develop the area and so there are no substitutes.
"So even if we are not going to do the NDDC headquarters, it doesn't mean we will complete the East-West road. They are all important and I want you to get that into your mind," Usani said.
On how much much has been spent on the East-West road so far, Usani said the government has spent N300 billion.
He, however, said he is doing a review of the entire contract; saying without that "nothing will ever happen on that road talk less of completion."
"If you have spent N300 billion and you are where you are, then the design, negotiations, contracts and everything is wrong.
"You designed a project of that nature and give it a lifespan of seven years and then no designs in some sectors and yet you are attributing cost to it. So by what means did you have the elements of costing. These are verifiable facts at any time," he said.
Usani said he has concluded plans to send about 30 contractors working for the NDDC to the EFCC for investigation and prosecution.
"I have got a minimum of 30 contractors that I am sending to EFCC. On the East-West road I have taken a private consultant to review the whole cost, so some contractors will obviously refund money for which the present cost will be discounted.
"So when you see contractors ganging up and publishing things against me, you should know the foundation. But as far as I am here I will do something that I feel is right," he said.   
Copyright Ships & Ports Ltd. Permission to use quotations from this article is granted subject to appropriate credit given to www.shipsandports.com.ng as the source.