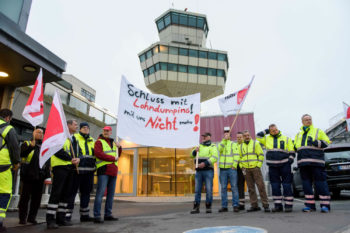 Hundreds of flights were cancelled at both of Berlin's airports on Friday due to a strike by ground crew. A spokesman for the capital's airports, Schoenefeld in the south and Tegel in the north, said that almost all connections were affected.
He said that many travellers had already been warned of the cancellations and therefore did not come to the airports.
Enrico Ruemker of the Verdi labour union said that all members were currently participating in the industrial action.
On March 3, 98.6 per cent of staff at Tegel and Schoenefeld voted for the stoppage.
There have been 455 cancellations at Tegel and 204 at Schoenefeld.
The strikes are expected to affect crowds of keen travellers wanting to attend Berlin's ongoing International Tourism Bourse.
Verdi is pushing for an hourly pay increase and better working hours for its members, arguing that their workload is increasing with the growing number of passengers and a greater focus on security.
The Deutsche Bahn rail network said customers of airlines Lufthansa, Eurowings and Air Berlin were able to use their electronic tickets as travel vouchers for travel inside Germany.