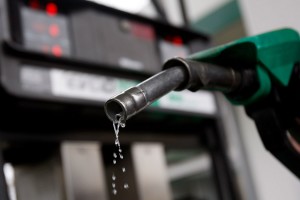 State oil firm, the Nigeria National Petroleum Corporation (NNPC), has revealed reasons it pays 'subsidy' on petrol without appropriation from the National Assembly.
The Managing Director of the Petroleum Products Marketing Company (PPMC), Umar Ajiya, disclosed this while featuring on a TV programme on Friday morning.
Ajiya said the NNPC has the right to run its finances independently because the NNPC Act is a law on its own which the Corporation implements with or without the National Assembly.
The PPMC is a subsidiary of NNPC which ensures, among other things, the availability of petroleum products to sustain Nigeria's industries.
Ajiya admitted that the Corporation has been paying N26 per litre due to differentials in land landing cost and approved selling price but declined to tag it subsidy.
"For us, it's not a question of subsidy, we don't know about subsidy. It was not budgeted for but the Act establishing us, the National Assembly knows clearly that in that same Act, there is a provision that we can run our operation and recover our cost fully.
"There is a difference between the landing cost and the price we are selling but what we are saying is that is part of our core structure."
Senators on Wednesday attacked Chairman of Senate Committee on Petroleum (Downstream), Kabir Marafa, for not including the issue of fuel subsidy in an interim report.
The senators were particularly angry that the NNPC is paying subsidy on fuel without appropriation from the National Assembly.
Ajiya advised the lawmakers to channel their grievances in the right manner.
"The NNPC Act is a law on itself and the National Assembly is the one responsible for enacting laws, so, if there is any remedy or solution; as one of the senators, the issue is look into the Act establishing these entities; NNPC,CBN etc."