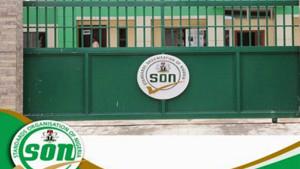 The National Association of Government Approved Freight Forwarders (NAGAFF), has called on the Federal Government to return the Standards Organisation of Nigeria (SON) to the seaports.
NAGAFF Founder, Dr Boniface Aniebonam who made the call on Friday in Lagos noted that SON should be actively involved in the import inspection of goods and quality assessment at the ports.
Aniebonam said their presence at the ports would help in the identification of substandard products which are injurious to the public.
He said, "On SON's return to the seaport, I would say their presence is needed there more than that of the National Agency for Food and Drugs Administrative Control (NAFDAC) that are presently dominant at the port.
"So, we are calling on the Federal Government to ensure that SON returns to the port; as we are aware of the harm substandard goods cause to the economy and safety of the people.
"Our stand is that SON should be dominant at the ports, while other agencies like NAFDAC should be called upon whenever their services are needed."
The Nigeria Ports Authority (NPA) had asked the officials of SON to vacate the seaports or risk being arrested.
The NPA said the directive was in line with a new order issued to the agency by the Presidential Enabling Business Environment Council (PEBEC).