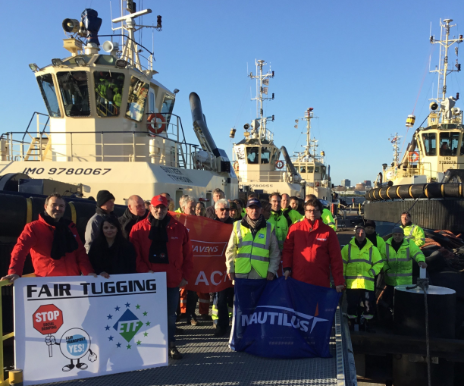 Members of Nautilus International and Svitzer tug employees in Amsterdam and Rotterdam have reached an end to a long-running dispute with Svitzer Euromed over unpaid working hours.
Namely, the trade unions Nautilus International and FNV Havens negotiated a five-year Collective Bargaining Agreement (CBA) with Svitzer Euromed management on July 15.
According to the new deal, members working on board tugboats in Amsterdam and Rotterdam will receive a pay boost of over 5% this year. In addition to the Consumer Price Index (CPI) compensation, a five-year wage increase has been agreed: 3% in 2019, 2.5% in 2020 and 1.5% in 2021, 2022 and 2023.
The result ends months of industrial action and negotiations that the trade unions conducted with the management of the port towing company.
With the new five-year agreement all further industrial actions at Svitzer have been cancelled.
Nautilus members took industrial action against Svitzer Euromed 11 times in the long-running dispute over unpaid working hours.
Tug crews wanted Svitzer to reimburse unpaid working hours – an average of 8.5 hours per person per week, which the crew had agreed to in 2014 as a stop-gap measure to help the company out of a financial slump.
With the financial difficulties behind it, the employees wanted Svitzer to adjust their wages to the 49 hours per week worked.
"This new collective labour agreement deal does justice for an important part to the extra hours they have started working since 2014," Asmae Hajjari, FNV Havens official, said.
In addition to the wage deal, agreements have been made about saving extra-statutory leave days for early retirement and about the safety of using temporary employees. 
Copyright Ships & Ports Ltd. Permission to use quotations from this article is granted subject to appropriate credit given to www.shipsandports.com.ng as the source.