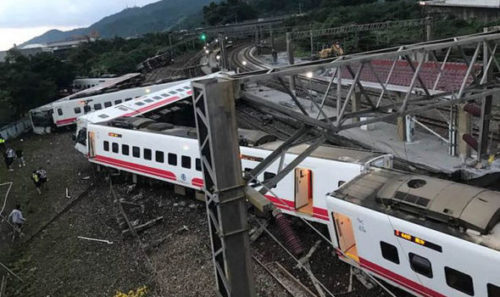 Taiwan's president on Monday pushed for a swift investigation after an express train derailed on a coastal tourist route.
The Puyuma Express crash on Sunday killed 18 people and injured 187 passengers in the island's worst rail accident for 27 years.
Among those who died, the youngest was nine years old. Two students aged 12 and 13 from a junior high school in Taitung — where the train was headed — were also killed, according to the transport ministry.
Officials said Monday that a small number of passengers were still unaccounted for and that the search effort was continuing at the accident site in the northeastern county of Yilan.
Cranes were brought in overnight to lift the Puyuma Express coaches away from the southbound track. All eight carriages derailed and five had flipped onto their side.
Crane operators told an AFP reporter at the scene that work had been hampered by wet ground due to recent rain, so stabilising platforms were being brought in for the cranes.
Train services have partially resumed, using the northbound track.
President Tsai Ing-wen arrived early Monday at Xinma station, near where the train derailed.
"Everyone is concerned about the cause of the incident and I've asked prosecutors to clarify the situation… and the cause soon," she told reporters.
"At this difficult time let us all pray for the injured and hope the deceased can rest in peace."
Tsai also thanked the international community, including the United States and the European Union for expressing condolences over the incident.
Video footage of the aftermath of the crash, broadcast on local Taiwan television, showed passengers smashing a window from inside and kicking it through to escape.
Passengers who survived the accident recalled how the train had been shaking intensely during the journey and was going "very fast" before it derailed.
"The train stopped twice and we were told that there were problems that needed repair but the train restarted not long after," one passenger who identified herself as Mrs Chiu told reporters.
"We felt that the speed was too fast, then there was a crashing sound and we flew off (from the seats)," she said, adding that many passengers were sleeping at the time.
The crash was the worst rail accident in Taiwan since 1991, when 30 passengers were killed and 112 injured after two trains collided in Miaoli, in western Taiwan.