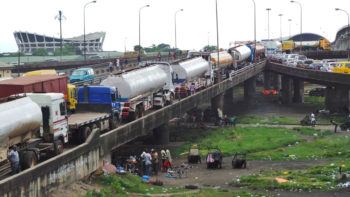 It is evident that any strategic and holistic plan geared at leapfrogging Nigeria's economic development, which focalizes on enhancing export performance and trade facilitation, must entail upgrade of port infrastructure, creation of business-friendly customs environment, uncomplicated regulatory environment, and provision of functional e-business infrastructure. Hence, it is salutary that the Federal Government through a public-private partnership arrangement with Messrs A.G. Dangote Construction Company appears set to renovate the roads to some of the most thriving ports in Nigeria. Hopefully, it would significantly contribute to improving Nigeria's lackluster record of trade across seas.However, the method of implementing this commendable infrastructural renewal plan is prone to crisis and is eliciting non-regenerative tension in the maritime sector.
According to the Federal Controller of Works, Lagos, Adedamola Kuti, the construction giant, Julius Berger Plc., which is the contractor in charge of the Marine Bridge renovation is prepared to commence work on sites.  In the same vein, A.G. Dangote recently revealed plans to shut downthe Wharf Road inward and outward Apapa while the Federal Ministry of Power, Works and Housing also announced plans to shut the Marine Bridge in Apapa for permanent repairs.
These strategic access points to the gateway of the nation's economy will be shut down simultaneously, if relevant authorities do not urgentlyintervene.
The planned closure of Wharf road and Apapa Bridge without the creation of viable alternative routes suggests that many economic actors, regulatory agencies and the political class are yet to appreciate the centrality of the seaports to sustainable economic development in today's globally interlinked markets.
Enterprises at seaports are vital to national economic development and integration into the interlocking systems of global market. Simply stated, Nigeria's economic growth cannot be strengthened without the efficient and unhindered functioning of our seaports. Ports provide strategic support base for economic enterprises in the hinterlands; they are the indispensible link between sea and land transportation systems.
More importantly, manufacturing industries in Nigeria cannot thrive and become global players without secured and cost-effective means of exporting mass-produced goods as well as importing raw materials and machineries, which cannot be sourced locally. Indisputably, thriving industries uplift the living conditions of their workers and consumers as well.
Ports provide services, which are essential to economic growth. Development-oriented smart nations consider their ports as business systems, which must operate efficiently for them to remain at the vanguard of a highly competitive market.Hence, such nations invest hugely in infrastructure development around the port with a view to promote quality of service and efficient port management.
Without a doubt, the planned closure of Wharf Road and Apapa Bridge is a sad commentary on our unilateral approach to infrastructural development. It suggests that we are operating an outmoded development paradigm. A development paradigm that is premised on the assumption that government knows best, and therefore, stakeholders consultation is a costly and time-wasting fifth wheel. True development in the maritime sector cannot take place without the active participation of the community of stakeholders in strategic issues. From all indication, the Seaport Terminal Operators Association of Nigeria (STOAN) and other critical stakeholders were not consulted before the road closure plan was made public. As a result, STOAN has called on relevant authorities to have a rethink in view of the multifacetedadverse effects of the simultaneous shutdown. According to STOAN, it will inevitably lead to port congestion, which is a recipe for economic woes.
After this sound counsel by STOAN, if the relevant authorities fail to backtrack on the proposed shutdown, the Lagos Port Complex Apapa and the Tin Can Island Ports will function at abysmally skeletal level. It will regress to the inglorious days that antedate port reforms and concession.
Port congestion is one of the perennial hitchesmilitating against import and export, and by extension Nigeria's economic development. The uses of obsolete technology or manual techniques for inspection of cargoes, the unneeded presence of many government agencies in the port, red tape, and poor traffic management systemare some of the root causes of port congestion in Nigeria.
A contributory factor to the traffic chaos around most ports in Lagos is the use of road unworthy vehicles to convey cargoes to and from the ports. When these vehicles breakdown, they further complicate the traffic situation. This implies that maritime truck owners have significant roles to play in the grand design to ensure port congestion due to chaotic traffic is a thing of the past. They can facilitate the creation of parking space for trucks and ensure only well maintained trucks ply the port axis.
One way to enhance Nigeria's export performance is to simplify and standardize customs formalities, administrative procedures and eradicate red tape associated with international trade.
At this tenuous and watershed moment in our economic recovery, what should be encouraged are action plans that will stimulate efficient port management, upgrade port facilities for increased cargo throughput without disrupting business activities in the ports and jeopardizing people's stream of income.
Ports are job creators. In other words, their functions extend beyond the realm of economic productivity to social stability. Joblessness is a known trigger of social anomie and ethical collapse. In other words, government and every principal actor involved in this unfolding road-closure saga should evaluate the many-sided social implications of the proposed plan and quickly open alternative routes. It is not socially and economically logical for businesses to be grounded at the port because of road construction.
We should learn from advanced economies. One of the advantages of living in the era of globalization is that it facilitates smart aping of workable models, what some refer to as "copy and paste technique of growth."  China is achieving amazing feat in construction. In January this year, 1500 Chinese workers built an ultra-modern train station track in 9 hours. The speedy construction, which occurred over a weekend in the southern Fujian Province, was characterized by military precision.
Similarly, in Beijing, the reconstruction of the Sanyuan Bridge was estimated to take two months. Given the untoward economic and social impact it will have, the entire construction was fast-tracked and completed within 43 hours. Also, Broad Sustainable Building (BSB), a Chinese construction firm built a 30-storey building within two weeks. Emboldened by this success, they seek to build within 90 days a 220-story pre-fabricated skyscraper, which will become the world's tallest building when achieved. It will make Dubai's BurjKhalifa, the most magnificent and tallest skyscraper in the world, which was constructed in five years,a child's play.
The question arising from the foregoing is why is it difficult for Julius Berger Plc – a multinational company with significant capital base to harness readily-availabletechno-scientific knowledge and machineries – to replicate the same feat in Nigeria. Creating alternative routes to the affected area is not rocket science. In fact, it is not something that should be clamoured for before it is done. It is unwise to shut down businesses and plunge families into penury, because of improvident planning.
It is important to reiterate the fact that true development cannot occur when the aspiration and concerns of the targeted beneficiaries are abstracted during the conceptualization and implementation phases of any given developmental project. The normalization of ineffective and skewed method of development has frustrated our national aspiration for greatness as much as corruption. As we endeavour to kill corruption before it kills us, we must also make people the centerpiece of our development enterprises, this entails due consultation with relevant stakeholders. The time to start is now. Government should hearken to prudent solicitation and counsel of STOAN and ensure the economy does not plummet to austere conditions.