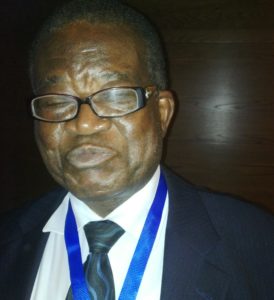 Engineer Olu Akinsoji is a renowned marine engineer and Nigeria's Alternate Permanent Representative to the International Maritime Organization (IMO) from 2001 to 2003. Prior to that time, he served as the Administrator, Maritime Academy of Nigeria (MAN), Oron from 1992 to 2000 and as the Government Inspector of Shipping from 2000 to 2001. At present, he serves as a member of the Ministerial Committee on the Establishment of a National Carrier.
In this interview with Shulammite 'Foyeku; Akinsoji speaks on the state of the maritime industry and the need for Nigeria to build institutional framework to drive growth and development of the maritime industry.
How has the maritime industry fared in the last two years under the present administration?
Attempts have been made by the present administration in respect of reshaping the industry by setting up some committees; one for restructuring of the Nigerian Maritime Administration and Safety Agency (NIMASA) and another for establishing a Nigerian fleet and more recently, a committee was also set up to reposition the Maritime Academy (MAN), Oron. These are some of the committees set up by the Buhariadministration at the instance of the Minister of Transportation. To me, these are positive attempts to make some fundamental changes concerning major issues in the sector.
Are you saying you are satisfied with the level of development in the sector?
Matter of satisfaction is a relative thing really. One would expect more dividends of these initiatives. However, we are still waiting to see the effect of those three committees translating into social economic development of the industry.  I don't know of others but that is my view because it depends on the angle you are looking at it.
My own measure of satisfaction is to see that we have more gainful employment of citizens; job satisfaction and investors are attracted into the industry. We have comparative advantage over the potential endowments of the nation in the industry such as carrying our own cargo and earning freights, certification of seafarers so that we are able to issue certificate to Nigerian citizens to man ships in international waters and earn foreign exchange like the Philippines' who make a lot of dollar returns to the economy of their country. For example in 2014, we had about 6000 vessels visiting Nigeria but none of those vessels were flying the Nigerian flag. The amount of money probably lost in that opportunity for Nigerians could be up to $2.5billion that year. If we can see that the percentage of such losses is lifted in the economy then I will say that we are moving in the direction of dividends. At the same time, I also know that these are the aims of these initiatives but whether we are in the direction of making these gains, I am not too sure. I can't put my thumb on it.
As a member of the committee setting up a national carrier, what is the next line of action since you submitted your recommendations to the Transportation Minister?
The committee submitted its interim report and the implementation committee are working on it but I will say we are very slow and we cannot measure the achievement. What the committee and the minister in concurrence is working on is to begin to create an environment for Nigeria to be able to have their own ships or even for foreign investors to come into the system and have confidence in putting money into buying ships and flying Nigerian flag and take advantage of the cargo and employ Nigerians on their ships to earn foreign exchange. These are the concepts but I have not seen that emerging yet and that is because in my opinion, the environment has not been created and the environment is not yet attractive and I wish that more political seriousness is put into this to allow it to emerge because it is a fantastic initiative, but then dragging our feet cannot gain us the pathway to achieving the objectives of that imitative. It is thing of worry. As a member of that committee; I thank the minister for giving me the opportunity to be there but I am not too happy that we cannot count on the gains of making the objective of that initiative. We spent so much time on it and I think there is not enough political will to push this thing to effectiveness.
Recently, Acting President YemiOsinbajo signed three Executive Orders, one of which directed that Apapaport operates on a 24-hour basis. Do you think this is realizable?
Having gone through the system and having played a role by the grace of God in many areas of challenges and come out with effective changes that are necessary based on the opportunity that has been given to me, there is nothing in the industry anywhere in the world that any country is achieving that Nigeria cannot achieve. We can achieve a lot of things. We can achieve the best operational system, we can achieve carrying our own cargo and we can achieve flooding the whole world with seafarers. Individually, Nigerians are clever people; we have the resources.
However, what we lack is systematic application of institutional framework, developing appropriate framework and having a sense of systematic implementation. We do not believe that it is important to have a good foundation by planning and moving ahead with the directional plan and putting a structure that is commensurate with the institutional framework and religiously complying with the norms that will give effect to those institutional frameworks. These are the problems and we cannot achieve anything if we do not address the problem. We need to understand the problems. We need to find the causes of the barrier to our objectives and we need to evaluate our performance and restructure ourselves to align it with the objectives based on planned procedure. So if we do not have all these things, we cannot by pronouncement achieve whatever we want to achieve. On 24-hour port operation, it is just about having efficient operation. But we have infrastructural problems. Do we have electricity that will work round the clock, because we need electricity to achieve that? Do we have communications that is sufficient enough to make sure there is no downtime or wastages in time and factors? Do we have supervision and punishment for those who are supposed to work and they don't work? All these are foundations that are supposed to be put in place and that cannot happen overnight.
It has to be programmed, planned, monitored and evaluated. Do we have the capacity to do all these? Those are the questions we need to ask? Identify the problems and find cure for each one of them and as we solve those problems, we evaluate and we know we are moving in the direction of achieving our objectives. These are fundamental issues. We must take appropriate steps to get to where we want to go.  Wishful pronouncement is good because the Acting President must not explain how you will achieve that but he will just say I want you to operate 24 hours. But you have to now sit down to outline the step-by-step actions to be taken to achieve that. Usually when pronouncements are made, we go into action and we start to act without even planning for it and at the end, it may work by putting political pressure for six months and after that, you put it behind you because you have not planned for it. So these are the kind of things happening with every issues, good initiative or pronouncement; and it is not good for us. That is the most unfortunate part of it.
Looking at the challenges in the Nigeria maritime sector, do you think the country has what it takes to return into the council of the International Maritime Organisation (IMO)?
The setbacks are the challenges I have been mentioning. It is just a matter of coming down from our platform; that believe that we know what we are doing and come to the level of saying what do we need to do to get to where we want to go and sincerely and genuinely itemize these things. The first thing to do as I have always said is to put the right people in the right place and when you do that, you ensure that you train them to do what you want them to do and put in place a monitoring system to be sure they are doing you want them to do to get to where you want to go. These are fundamental issues but over the years, not just this regime, it has been what we inherited.
Gradually we need to know that quality of people matter. I am not talking about political position, even if you have a political position, it is right because we also need political strength to do whatever we want to do. But when you put political people, we should also realize that we need people, not just professionals but people who have done well in a particular function you want them to perform. If we don't have one, then put somebody who will learn it and train the person to the level that is necessary for him to make good returns. We have moved away from that, in almost all areas. When you put the aggregate of effort everybody is making, it does not move us in any direction. I am sorry to say this but that is my view. We are struggling and struggling in the direction that we cannot even define. I think we need to have a backward integration of whatever we are doing and look at our institutional framework.
Nigeria has almost the best law all over the world compared with other countries but we don't even know how to test these laws whether to review them or not we just assume they are not working. It is not law that is the problem but the person who is interpreting the law. We say overlap, what is overlap in a country if there is understanding and good knowledge of what you are supposed to do?  If we are all in the same and good direction, overlap has no meaning. But if we stand autonomous and want to be rigid about it, we will never get anywhere. Operational standard that is established is very good initiatives but how far are we utilizing the outcome of standard operational system of all the agencies in the port?
What does the future holds for Nigerian seafarers?
There is always hope as a nation and citizens of a nation. God did not create us not to have hope. So there is always hope. The only thing is that the manifestation of the hope is in the hand of the people who are supposed to plan for it. The seafarers are being trained on a very good programme but the programme has been distorted by misconception of the benefits of the programme. The National SeafarersDevelopment Programme(NSDP), which we initiated had three objectives, but only one objective is being pursued. That programme is supposed to develop our institutional programme, improve structural and develop human element. It is human element that is been hammered on, the institutional framework is not being improved upon; the infrastructure is not being improved upon, whereas the amount of money that has been put into it should have been concurrently developing the three elements.
So what we do is to use the resources to train people and those people that are being trained in another country are developing the institutional framework of that country as well as their infrastructure ignoring our own institutional system and infrastructure. NSDP is good but it has not been planned correctly to meet up with the objectives and give direction to it in order to achieve all the objectives. We need to review it because that is where our hope lies as a nation. We must have an institutional framework; we must have a structure and infrastructure to develop even if not for now at least for the future. I don't want to be advising on the pages of newspapers but if that is the only thing I need to do before I leave this world, I have to do it.
Copyright Ships & Ports Ltd. Permission to use quotations from this article is granted subject to appropriate credit given to www.shipsandports.com.ng as the source.