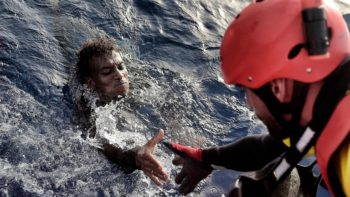 The Spanish coast guard rescued three men on Tuesday from a half-sunk dinghy stranded in the Mediterranean, after a two-day search for a boat that had left Morocco with 52 people on board.
The rescued men, all from countries in sub-Saharan Africa, said the rubber boat had been drifting since it set off from Morocco's northern coast, the coast guard said in a statement.
The statement said an informant had alerted the coast guard on Sunday that a boat had left from near Al Hoceima in Morocco, and that the area had been searched non-stop since then.
The coast guard said it was likely that the boat they had found was the same one they were looking for.
A helicopter transferred the three men, a 17-year-old and two 25-year-olds, to the Spanish port of Almeria, where medical services were treating them.