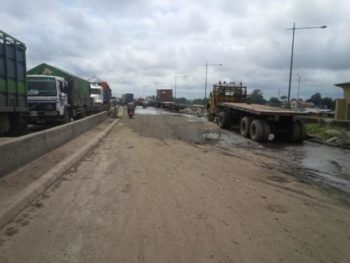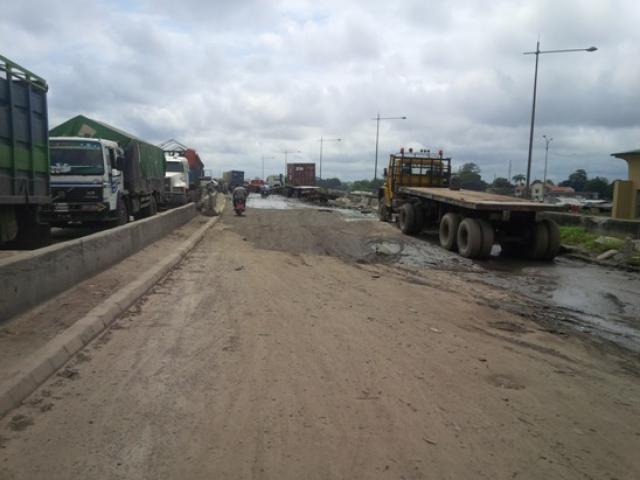 An official of the Federal Ministry of Power, Works and Housing (FMPWH), Olukorede Keisha, on Sunday said that palliative repair work on the Tin Can Island Port access has started and will be completed at the end of February 2018.
She said AG Dangote Construction Company Ltd is undertaking the road repair. 
"Dangote is fulfilling his promise to Nigerians by instructing his company, AG Dangote Construction Company Ltd to start palliative works on Liverpool road starting from Area B Police station.
"The works include desilting of all drains, carting away of debris, grading of all bad portions, filling with stone base and asphalt overlay of severely failed sections.
"The palliative work started since Monday, 29th January.
"Desilting of drains and carting away of debris/refuse is ongoing at Beechland through Coconut(Oshodi bound) as we speak.
"Also, work has started on Tin Can gate 2 (Oshodi bound). Excavation of terribly distressed portion has began, while filling with hardcore has been done in some sections in preparation for the Stone base layer after which asphalt will be laid on it.
"All these are temporary measures aimed at ameliorating the discomfort of motorists pending the final approval of the reconstruction with concrete by the Ministry (FMPWH).
"The palliative works will be through on or before February ending," she said.
She appealed to road users to be patient around construction zones, adding that AG Dangote was working hard to complete ongoing reconstruction on schedule.