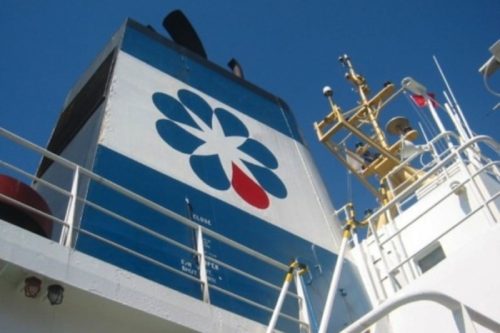 Bunker supplier Aegean Marine Petroleum Network announced Tuesday that it had filed for Chapter 11 bankruptcy in the U.S. Southern District of New York, along with some of its subsidiaries. 
The announcement comes just days after the company said that an internal audit has revealed $300 million in cash and other company assets had been misappropriated through fraudulent activities by suspected former affiliates of the company.
NYSE-listed Aegean Marine Petroleum Network is a leading international marine fuel logistics company that markets and physically supplies refined marine fuel and lubricants to ships around the world through its large fleet bunkering tankers.
Back in June, Aegean Marine's stock price crashed more than 75% after disclosing that it would likely have to write-off an estimated $200 million in bad transactions discovered during an internal review of its annual financial statements for 2017. About a week later, it was hit with a class action lawsuit from investors.
On Tuesday, Aegean said it filed Chapter 11 with support from Mercuria Energy Group, which has agreed to provide more than $532 million in post-petition financing to fund the chapter 11 process as well as the working capital needs of the company. Mercuria has also agreed to serve as the stalking horse bidder in a sale process designed to optimize the value of Aegean as a going concern.
Debtors in the case have filed a series of first day motions with the bankruptcy court seeking authorization to continue to normal business, including in relation to employees, customers and suppliers.
Last Friday, Aegean Marine announced the results an independent Audit Committee investigation into the alleged wrongdoings revealed earlier this year. The investigation determined that up to US$300 million of company cash and other assets were misappropriated through fraudulent activities by Fujairah-based OilTank Engineering & Consulting.
Aegean and OilTank entered into a contract in 2010 on the construction of the Fujairah Oil Terminal Facility in the UAE, however, the Audit Committee believes that OilTank was simply a shell company used to funnel company money through inflated contracts and fraudulent pricing.
"These transactions lacked economic substance as the relevant counterparties were shell companies with no material assets or operations and were owned or controlled by former employees or affiliates of the Company," Aegean said in statement on Friday.
"The Audit Committee believes that the receivables were improperly recorded as part of a scheme to facilitate and conceal an extensive misappropriation of Company assets channeled to OilTank, but accounted for as transactions with these shell companies," the statement added.
In 2014, Denmark's OW Bunker, which at the time the world's leading supplier of marine fuel oil, filed for bankruptcy just days after it disclosed an $125 million bunker fraud scandal involving some of its senior employees. The scandal forced the company out of business and sent shockwaves through the global shipping industry.   
Copyright Ships & Ports Ltd. Permission to use quotations from this article is granted subject to appropriate credit given to www.shipsandports.com.ng as the source.