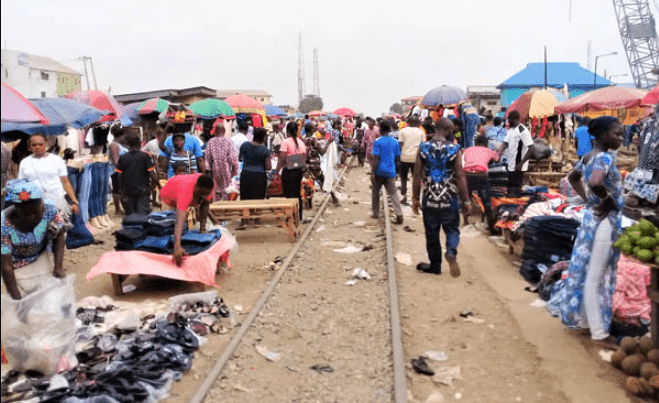 The China Civil Engineering Construction Company (CCECC), the contractor engaged by the Federal Government to build rail lines across the country, has warned traders against displaying their wares on rail tracks.
Recall that last month; a woman and her daughter were crushed to death by a passenger train on the Itakpe-Warri railway line in Udu Local Government Area of Delta State.
Speaking with SHIPS & PORTS in Ijora, Lagos on Wednesday, an official of CCECC, Aremu Olarewaju, said many traders have refused to yield warning to leave the  rail tracks, hence the need to build fence around the tracks.
He said, "We are Nigerians and sometimes, we are difficult to direct. We've pleaded to these pedestrians to stop making use of these tracks because when a train is coming, it doesn't stop; it only makes use of the horn.
"This morning, a train has passed here. So, we wouldn't know whether one is coming or not. However, you will see people either walking on the tracks or doing their business as if this place is a market.
"And that is why the Federal Ministry of Transportation has devised a way to ensure that there are no pedestrians using this track for anything whatsoever again.
"Fencing construction is ongoing that would have barb wire at the top of it. We can't afford to lose lives in the name of doing business in a dangerous zone like this."