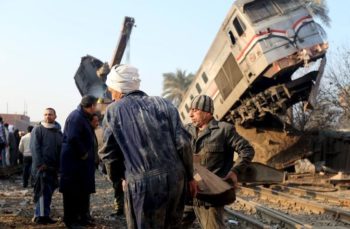 Two trains collided in Egypt's coastal city of Alexandria on Friday killing 24 people and injuring more than 55 others, two security sources and one medic said.
The crash near the Khorshid station between Alexandria and Cairo route derailed the engine of one train and two cars of the other, state news agency MENA said.
State newspaper al-Ahram said 28 bodies had arrived at hospital morgues in Alexandria province. Public prosecutor Nabil Sadek ordered an urgent investigation, it said.
The health ministry put its preliminary toll at 20 dead and 84 wounded.
Footage from the scene broadcast on state television showed dozens of people crowding around the damaged train cars, with dead bodies strewn on the ground.