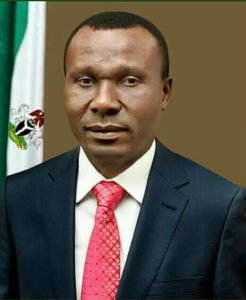 Ondo State government will be hosting a national conference on Niger Delta, the Minister of Niger Delta Affairs (MNDA), Usani Uguru said on Friday.
He said the forthcoming council meeting is billed to hold from 7th to 14th September in Akure, Ondo state capital.
Usani said Ondo State was chosen on a strategic reason and her peculiarity in terms of resource base and we are determined to tap into it and see how the society can benefit from it.
"We want everyone to understand that the government of Ondo State has shown pro-activity that is unparalleled in respect of the programmes we have in the Federal Government vis-à-vis having consistent rolling of that programme with the economy recovery road plan.
"Ondo State government is the first state in the Niger Delta region that has prepared an independent programme to match into our initiative which we have anchor with the presidency to revive ailing or moribund industries as well as promote the agricultural chain to a point of viable industry and probably heading towards the export orientation."
The Minister said the essence of today's press briefing is to be able to place in proper perspective the roles the government is playing and "our own policy direction within the framework between now and 2020."
Usani added that through the National Council, they are getting private sector investors and funding agencies including international investors based on what they have started with Ondo state which will spread to other states.
"From here, the private sectors in co-operation or partnership with the state government would define what can be done in their respective states while the FG provides foundation for effective funding under bankable principles."
Representing Ondo State at the briefing, the deputy governor, Agboola Ajayi, said they want to tap into every avenue that will make the state investors destination for the nation.
He said a lot of people do not understand that Ondo state is part of the Niger Delta region, adding that Ondo remains the most peaceful state in the Niger Delta region.
He urged all stakeholders and participants to be part of the council meeting without entertaining any fear.