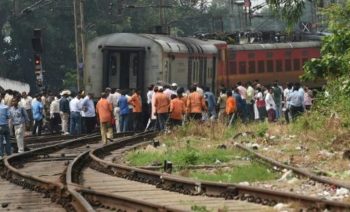 Four women were killed and five others injured Monday after being struck by a train while crossing railway tracks in eastern India, police said.
The victims were returning from performing religious rituals at a nearby river when they were hit by the train in the Munger district of Bihar state.
"It was slightly foggy and they might have failed to notice the oncoming train," Asish Bharti, Munger police chief, told AFP.
They were crossing at an unauthorised spot, the officer said. The injured victims were being treated at a state-run hospital.
Every day thousands of Indians take short cuts across railway tracks but this can prove deadly.
Nearly 28,000 people were killed in accidents along tracks in 2014, mostly run down by speeding trains, the latest data from India's crime record bureau shows.
India's railways transport nearly 23 million passengers every day. But critics say the creaking British-era network is inefficient, overburdened and unsafe.
Agency Report