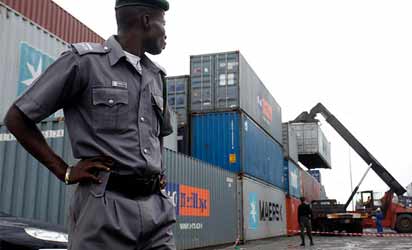 The National Drug Law Enforcement Agency (NDLEA) on Friday said Nigeria Customs Service (NCS) was yet to position 39 containers suspected to contain illicit drugs for inspection by the agency.
NDLEA's Head of Public Affairs, Jonah Achema, made the disclosure in an interview with journalists in Abuja.
The agency had recently inspected 23 containers out of 62 at the Lagos Port Complex, Apapa and in them, 581 million Tramadol tablets were discovered.
It had said that all the containers had been on its watch-list since November 2017.
The containers were searched at the port based on NDLEA's "reasonable suspicion" that they contained the illicit drug.
According to Achema, after inspection of the 23 containers, the NCS became reluctant to release the remaining 39 containers for NDLEA officials to search as NCS is yet to position the remaining suspected containers for a search.
He said, "It is the responsibility of the NCS to position the containers for search.
"The agency is like a dog; once it smells a prey, it will not relent until it apprehends the prey itself.
"Our goal is to ensure that the country is free of drug-related issues. Our concern are the drugs suspected to be inside those containers.
"We can't do anything now as those containers are yet to be positioned. However, we are on a standby and always at alert."
However, the Public Relations Officer of the Nigeria Customs Service, Joseph Attah, when contacted said that there were no issues between both agencies.
According to him, the two organisations of government have been working together to ensure that illicit drugs' smuggling was curbed to the barest minimum.
The Comptroller General of Customs, Hameed Ali, had in Lagos on Thursday said the Service impounded 40 containers of Tramadol and other pharmaceutical products worth over N7.3 billion.