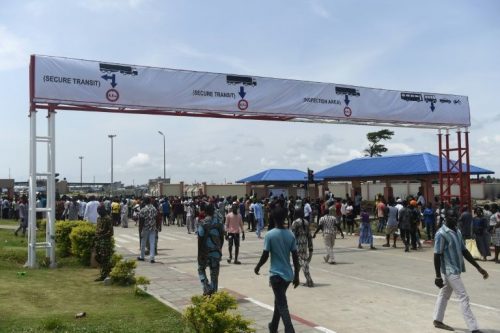 The West Africa Road Transport Union (WARTU) says most of its members have become jobless since the closure of Nigeria's land borders with neigbouring Benin and Niger.
WARTU Vice Chairman, Salami Nasiri, who disclosed this while speaking with SHIPS & PORTS, also urged the Federal Government to put in place tracking devices that would monitor trucks from point of loading to final destination to address the problem of petroleum smuggling in the country.
Nasiri, who condemned the total closure of the land borders, said the Federal Government should have deployed technology instead of physically shutting the border; a development he said has taken a negative toll on its members doing business along the corridor.
According to him, other countries in the West Africa sub region including Ghana, Senegal and Cote d'Ivoire have tracking devices put in place to monitor movement of goods, wondering why Nigeria is lagging behind.
"When the Nigeria National Petroleum Corporation (NNPC) was talking about the issue of smuggling of petroleum product, what they should do is to have a tracking system just like they have in Ghana. From their loading point to final destination, they will be tracked and you will know where they will offload the goods. I don't know why the government is worrying the poor people. If something is not wrong, tracking system works in Ghana, Cote d'Ivoire and Senegal, so why not Nigeria?
"The tracking system is what we need to stop smuggling of petroleum product. With the tracking system, the moment a truck diverts petroleum product, the Customs will know. They don't need an escort to monitor the goods. It does not need manpower and it is more efficient than what they are doing now. If the government doesn't put in place necessary infrastructures, are they are expecting someone to do it for them?
"Most of our members have been jobless since the border closure. You cannot ask the importers to pay demurrage when the closure of the border is not their faults. Some of the traders have goods that will expire in the next one week and there is nothing we can do," he said.
Nasiri said poor connectivity between Nigeria and other Customs administrations is also responsible for smuggling while also hampering trade facilitation in the West Africa region.
"We have passed that era where Nigeria Customs will be escorting goods and this is due to lack of connectivity among other administrations. There should be connectivity between Nigeria and Benin Customs so that the two Customs will know what goods are coming into country. The ECOWAS protocol says there should be connectivity between the Customs authorities. In Ghana, they have the Customs connectivity between Ghana and Burkina Faso," he said.