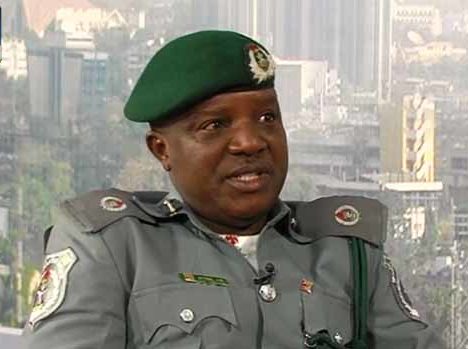 Joseph Attah is the Public Relations Officer of the Nigeria Customs Service. He also doubles as the spokesman of the joint border security operation. In this interview with Shulammite Foyeku, he speaks on the gains so far recorded since the closure of Nigeria's borders with neighbouring countries. He said the federal government's decision to close the borders, would in the long run, create a safer environment for the expected implementation of the African Continental Free Trade Area (AfCFTA) agreement.
Excerpts:
The Federal Government directive to close the border no doubt has recorded some successes in the past two months. However, there are allegations that the border drill operation appears not too effective at border towns in the North as smuggling activities still persists when compared to the South West. How would you react to this?
What parameters have they used to measure that?  I also get the same allegation from Kastina against the West that the pressure is on them and it is as if the border drill is relaxed in the South West. All I can is that this action is carried out simultaneously in the four geopolitical zones that we have announced. The operatives in the border drill are from different States and it is not that we selected people from a particular tribe. It is a mixture of the armed forces from the Nigerian Police, Customs, Immigration, and operatives of other intelligence agencies shared into the four zones. So whatever is going on in one zone is also applicable in other zones.
On the average, how many seizure and arrest have so far been recorded?
Talking of seizures and arrest, at least we have arrested 317 suspected smugglers and 146 illegal migrants. Of particular interest is the arrest of the illegal migrants. You can imagine that if it is six out of the 146 that were coming into the country with the mind set to cause havoc; you can see what the border drill operation has saved the country. On seizures, we have over 25, 000 bags of rice; we have 131 bags of NPK fertilizers, which is a raw material used for improvised explosives. You can imagine the consequences of that on our security. We also seized petroleum products, drugs, ammunition, second hand clothing and a host of other things. On the economy side, it has shifted patronage of foreign rice to local rice and Nigerians are smiling to the bank, demands have increased, farms are being expanded and more hands are being engaged in the farms, which is job opportunity and a kind of inward look in our convention, and that is stimulating local production. Some people have also started diverting their cargoes through the seaport and revenue collection is on the increase.
There are concerns that the border closure may jeopardize the expected implementation of the recently signed African Continental Free Trade Agreement (AfCFTA). What would you say to this?
There is no agreement in this world that support that a party should deliberately tolerate an action that is negatively affecting its national security and economy. You need to be alive first before you can be a party to any agreement. The agreement did not support that neighbouring countries should engage in action or inaction that will continue to compromise our security and safety as a nation. Therefore, what we are doing eventually will lead to a very safer environment for that bigger agreement to operate smoothly. By the end of this operation when there is strict commitment to the implementation to the ECOWAS protocol on transit, then we would have created a path that would be smooth for the AfCFTA you mentioned. What we are doing will eventually sanitize the system and at the same time make the neighbouring countries have a strong commitment to abide by the ECOWAS rules.
Let's talk about the recent clamp down on car mart by Customs operatives. It's been three weeks already that the car shops were shut, how soon would they be re-opened?
Are you suggesting that they have not been opened? We had a meeting with the car dealers' leadership and those who are found to be compliant have been re-opened. Once they show proof that they are compliant, they will be opened.
How many vehicles have been detained so far in the exercise?
I cannot give the statistics now. The operation is a simultaneous one, so it is until they finish that we can have the numbers of vehicles that were detained and how much duty was realized from the report that would be submitted.
Stakeholders in the Organised Private Sector have condemned the manner in which the clampdown on car marts was carried out by Customs. Are there no better approaches Customs can adopt to fish out those with smuggled vehicles in their shops?  
People should be careful with their utterances and not go supporting illegality. I think the most patriotic thing to say or preach is that people should avoid engaging in illegality or any act that is in conflict with the law. If you are not in conflict with the law, you don't have any problem, not even with Customs. If I am driving my car, I make sure that everything that I need to have is complete and anytime Police or Road safety ask me to stop, I stop and I show all that they requested from me. But when you break the law and the law enforcer tries to make you comply, and people began criticising, that is worrisome. Some people even say we should have given them notice. So you will call somebody and hold a meeting with him that you are coming tomorrow to seal his shop? The tactics that we have adopted to enforce law is a decision taking by the management of the Service. Every patriotic Nigeria should rather advise them to be compliant.
Nigeria moved 15 places on Ease of Doing Business index last week. What role did Customs played in this regard to ease business operation at the ports?
Most of our processes are automated now. But Customs is just one in the chain of clearance procedure. For example, if a container is not positioned, you cannot carry out examination. If the road network to the port is bad, and the truck that carried the container break down on the road, how will it get to its destination? Customs begins with declaration, payment, examination and release. So, once we release, and it takes the importer one or two days to clear with the shipping line, that is certainly not Customs. All things been equal, Customs can release within seven or eight hours because most of our processes including declaration are online, so we are about the fastest in the chain of clearance.
Copyright Ships & Ports Ltd. Permission to use quotations from this article is granted subject to appropriate credit given to www.shipsandports.com.ng as the source.