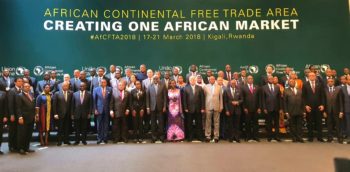 Forty member states of the African Union (AU) on Wednesday signed an agreement establishing the African Continental Free Trade Area (AfCFTA) in Kigali, the capital city of Rwanda.
The signing took place during the 10th Extraordinary Session of the Assembly of the African Union (AU) on the AfCFTA.
Chairperson of AU Commission, Moussa Faki Mahamat, was handed over the legal instruments signed by African countries at the signing ceremony.
Some 40 countries were set to sign the agreement establishing the AfCFTA, the AU Commission Chairperson said during the signing ceremony.
After the signing, the agreement will be submitted for ratification by state parties of the agreement in accordance with their domestic laws.
Agency Report