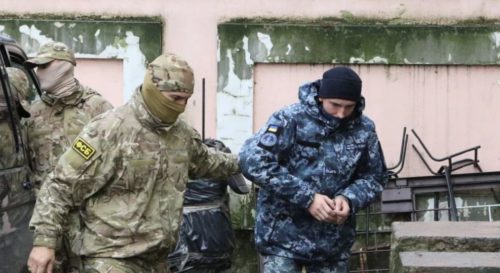 The International Tribunal for the Law of the Sea (ITLOS) has ordered Russia to release three Ukrainian naval vessels and 24 servicemen on board detained last year.
The tribunal decided on May 25 that "the Russian Federation shall immediately release the Ukrainian naval vessels Berdyansk, Nikopol and Yani Kapu, and return them to the custody of Ukraine".
In addition, the tribunal decided that Russia "shall immediately release the 24 detained Ukrainian servicemen and allow them to return to Ukraine."
In November 2018, the ships and sailors were arrested by Russia following a skirmish which occurred after the vessels attempted to enter the Sea of Azov via the Kerch Strait. The two
Ukrainian small armored artillery boats and a harbor tugs carried out a planned transition from the port of Odessa to the port of Mariupol in the Azov Sea when they were detained, the
Ukrainian Ministry of Defense earlier explained.
The recent tribunal order comes several weeks after Ukraine submitted to ITLOS a request for the release of the arrested vessels and sailors.
The country also requested the tribunal to prescribe provisional measures requiring Russia to suspend criminal proceedings against the 24 sailors and refrain from initiating new proceedings. However, the tribunal now said it does not consider it necessary to do so.
The tribunal said it considers it appropriate "to order both parties to refrain from taking any action which might aggravate or extend the dispute".
Describing Russia's military actions related to the detention as "unjustified", the US sanctioned, in coordination with Canada and the EU, six Russian companies in March this year.