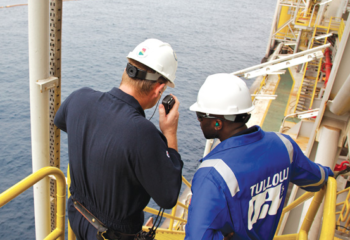 Africa's biggest independent oil producer, Tullow Oil, is back on track to expand its flagship oilfields off Ghana's coast after a two-year drilling block due to a border dispute.
The news sent Tullow's shares to the highest in four months, last trading at 189.6 pence, up 6.3 percent from Friday's close, on an expected revenue boost from higher production although the company did not give details.
Tullow said it will resume drilling at the Tweneboa, Enyenra and Ntomme (TEN) oilfields around the end of the year to lift production to full capacity of 80,000 barrels per day (bpd), following an international tribunal ruling on Saturday favouring Ghana in a dispute with its neighbour Ivory Coast.
The maritime border dispute with Ivory Coast meant Tullow had been unable to drill in the TEN area, which is close to Ivorian waters, since March 2015, although it was able to bring the fields onstream in 2016.
Tullow is battling to reduce a heavy debt pile it accrued during the oil market downturn that coincided with heavy spending to bring the TEN fields onstream.
The company said on Monday that it expects to gain necessary environmental and other permits from Ghana, but declined to give an estimate for when the TEN fields would reach full capacity. They were producing around 50,000 bpd over the first half of this year.
Analysts at Bernstein said they expected Tullow to add around 11,000 bpd of new resources from TEN in 2018, a volume that would generate an additional $170 million in cashflow from operations, assuming oil prices of around $50 a barrel.
A Tullow spokesman confirmed the company had already issued a tender to contract a drilling rig for use at the TEN fields.
The oil producer reported in July a deeper than expected operating loss in the first half of the year as weak oil prices lowered the value of its TEN fields. Net debt stood at $3.8 billion.
It is also in the middle of refinancing its reserve-based lending (RBL) facility before the end of the year and analysts at Barclays said the maritime border ruling should ensure the process runs more smoothly.
Davy Research said the company is likely to divest some of its 47 percent equity in the TEN project.