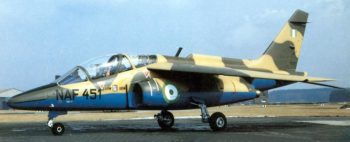 The Nigerian Air Force (NAF) is to collaborate with the Jordanian Royal Air Force (JRAF) on manpower development.
The Chief of Air Staff, (CAS), Air Marshal Sadique Abubakar, disclosed this when received the Commander of the JRAF, Maj.-Gen. Yousefa Al-Hnaity, in his office in Abuja on Monday.
Abubakar said that the 21st century was characterised by armed conflicts, such as Boko Haram, ISIS and other insurgencies and that collaboration was needed to tackle the insurgencies.
He recalled that in 2016, NAF officers visited China, Pakistan, UK, U.S. Egypt and recently Jordan, to seek partnership on capacity building.
The NAF chief said the initiative was geared toward looking for partners to enable the NAF tackle insurgents and other security threats in Nigeria.
He described the problem of insecurity as a global challenge that could not be tackled alone by one nation, saying that some NAF personnel were currently undergoing training in the U.S., Egypt and other countries.
"Some of our personnel came back last week from Morocco after undergoing various trainings.
"The training of personal will go a long way in assisting them to carry out their professional responsibilities without much stress."
According to him, application of air power is the only way to deal with the emerging problem of terrorism around the globe.
In his speech, Al-Hnaity, expressed delight for the partnership, promising that Jordan would provide necessary assistance to NAF whenever needed, especially in logistics, spare parts and training.