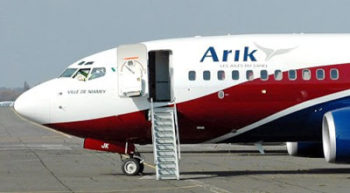 There was a mild drama Friday on a 7am flight of Arik Air from Lagos to Abuja as two suspects were caught stealing from a bag belonging to another passenger few minutes to landing at the local wing of Nnamdi Azikwe Airport in the Federal Capital Territory (FCT).
The attention of the passengers were attracted by the voice of one of the crew members on the flight asking one of the suspects to sit down and should dare not utter a word since he had been finally caught.
But the key suspect stood up to the crew member, asking him to state his offence.
Unknown to the suspect, whose names was not available at the time of filing this report, his movements on the plane were being monitored by an eagle-eyed Arik Air worker, who pretended to be a passenger who was sleeping.
But the Arik Air worker, who adorned a pair of dark glasses watched as the first suspect opened one of the overhead lockers, brought down a bag and removed a polyethylene bag containing two wrapped envelopes and loose N1000 notes.
The second suspect came into the picture when he gave a black bag to the first suspect, who kept their "loot" inside. He zipped up the bag and hid it by the side of his seat.
The airline worker, who was detailed to do the monitoring then removed his glasses and drew the attention of other crew members.
To the surprise of all on board, the first suspect became recalcitrant, daring anyone to touch him or take his photo.
The key suspect said: "If anyone dare come to me, I will blow you and nothing will happen. I didn't do anything."
When the polyethylene bag was retrieved, the owner,  Peter Imoh, was in shock.
Copyright Ships & Ports Ltd. Permission to use quotations from this article is granted subject to appropriate credit given to www.shipsandports.com.ng as the source.